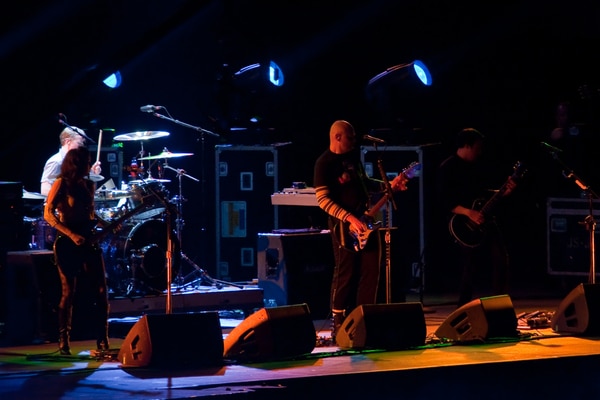 Smashing Pumpkins are releasing a 1998 Billy Corgan acoustic set on vinyl this week.
Live at the Viper Room 1998 was recorded at the famous Hollywood venue on January 15th, 1998. Pumpkins frontman Corgan played a set of 13 acoustic versions of Smashing Pumpkins tracks.
"The thing you hear in the Viper Room show is you're really sort of being allowed into the studio where the songs don't have the accoutrement of all the bells and whistles," said Corgan in an Instagram announcement. "There's a certain innocence before songs are released to the world."
View this post on Instagram
Live at the Viper Room 1998 will only be available to purchase through madamezuzus.com, the website of Corgan's plant-based tea shop. The record is released on July 31st.
The tracklist is as follows:
To Sheila
Perfect
Let Me Give The World To You
Jupiter's Lament
Once Upon A Time
Daphne Descends
Ava Adore
Crestfallen
Set The Ray To Jerry
Shame
Tear
Blissed And Gone
1979
Earlier this year the Pumpkins released another live vinyl LP – Live in Japan 1992.
Corgan recently spoke to Rolling Stone about the legacy of Gish, the Smashing Pumpkins record that celebrated its 30th anniversary this year.
The Pumpkins frontman claimed the album was a major influence on bands of the era, including Pearl Jam and Nirvana.
"I remember having a conversation with Eddie Vedder when we were on tour with the Red Hot Chili Peppers [in late 1991]. He told me how much of an influence 'Gish' was on their first record," Corgan said. "And through the years, I've talked to many, many people who really pointed to 'Gish' as the game-changer in their mind about how to approach guitar and how to record."
Corgan went on to discuss the album's influence on how Nirvana's breakout Nevermind would be recorded. Both albums were produced by Butch Vig.
"They gave us a very modest budget and wanted us to get our feet wet, so they were stuck us in the corner with this no-name producer named Butch Vig to make a record that, in their mind, was going to fly under the radar," Corgan recalled. "[Virgin Records] were positioning us for where they felt we could go later. Our record starts selling like crazy and they start thinking, 'Maybe we're onto something.' Around the time they're trying to figure out what to do, here comes 'Nevermind' and here comes [Pearl Jam's album 'Ten']. And the game is instantly changed overnight."
Gish's anniversary was celebrated with a livestream in May in which the band previewed unreleased music and answered questions from fans.