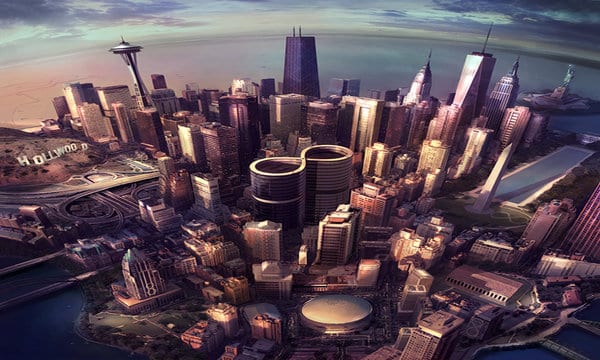 Foo Fighters have released a trailer for their new television series Sonic Highways, debuting on HBO this October.
In the series, the American rockers document the making of their new studio album also titled Sonic Highways.
Dave Grohl directs the series, each episode takes place in a different city, Chicago, Austin, Nashville, Los Angeles, Seattle, New Orleans, Washington D.C. and New York.
The documentary explores the musical significance of each city, its musical characters and chronicles the importance of each music studio they record in.
In each city the band record one song with a local legend. Featured in the HBO series are, Fugazi, Paul Stanley (Kiss), Joe Walsh (The Eagles), Arcade Fire and President Obama.
Grohl even held off writing lyrics until the last day of each session, so he could soak in the experiences, interviews and personalities that became part of the process.
The Foo Fighters frontman says the series is a "love letter to the history of American music." Each episode explores the unique identity of the musicians and identifies how the city they were raised in influenced their musical sound.
Watch the trailer below.
This is Grohl's second music documentary, his first was 'Sound City', a Grammy award winning film about the Sound City Recording Studios. Neil Young, Fleetwood Mac, Grateful Dead, Kings Of Leon, Rage Against The Machine, Johnny Cash and Nirvana, have all played and recorded in Sound City Studios.
Check out the Sound City trailer below.