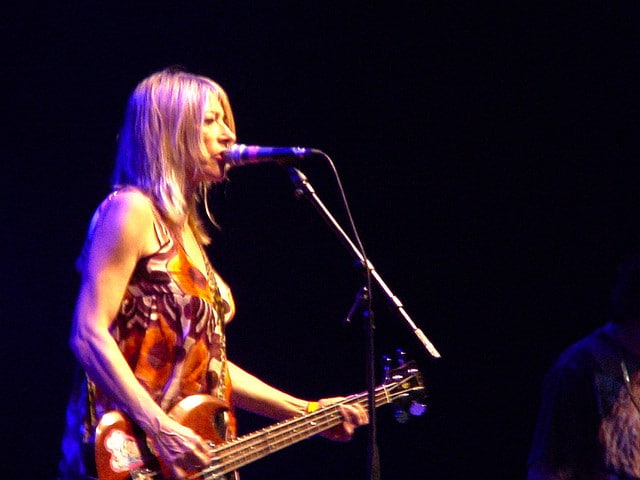 Sonic Youth's former bassist-vocalist Kim Gordon has been having a go at the mopey singer Lana Del Rey.
In Gordon's new memoir she states that Lana Del Rey sleeps "with gross older men" and claims that she is obsessed with dying young.
The book titled 'Girl In A Band' charts Kim's time with Sonic Youth, discusses her marriage to the band's singer Thurston Moore and reveals her thoughts on some of rock's most recognisable figures.
The memoir's title is taken from the lyrics of Sonic Youth's 2009 song 'Sacred Trickster', 'What's it like to be a girl in a band?/I don't quite understand'.
Last year, Lana Del Rey told The Guardian, "I wish I was dead already. I don't want to have to keep doing this. But I am. That's just how I feel. If it wasn't that way, then I wouldn't say it."
Speaking with Fader, Lana said: "For me, the issue of feminism is just not an interesting concept. I'm more interested in, you know, SpaceX and Tesla, what's going to happen with our intergalactic possibilities. Whenever people bring up feminism, I'm like, god. I'm just not really that interested. My idea of a true feminist is a woman who feels free enough to do whatever she wants."
An excerpt posted on Twitter by Esquire's Joe Keohane, reveals what she thinks of Del Rey's thoughts on death and feminism.
Gordon writes: "Today we have someone like Lana Del Rey, who doesn't know what feminism is, who believes it means women can do whatever they want, which, in her world, tilts toward self-destruction, whether it's sleeping with gross older men or getting gang-raped by bikers."
"Equal pay and equal rights would be nice. Naturally, it's just a persona. If she really truly believes it's beautiful when young musicians go out on a hot flame of drugs and depression, why doesn't she just off herself?"
In another extract revealed a few weeks ago, Gordon talks about the rocky relationship between Kurt Cobain and Courtney Love.
Kim Gordon's 'Girl In A Band: A Memoir' is available via Dey Street Books on February 24th.