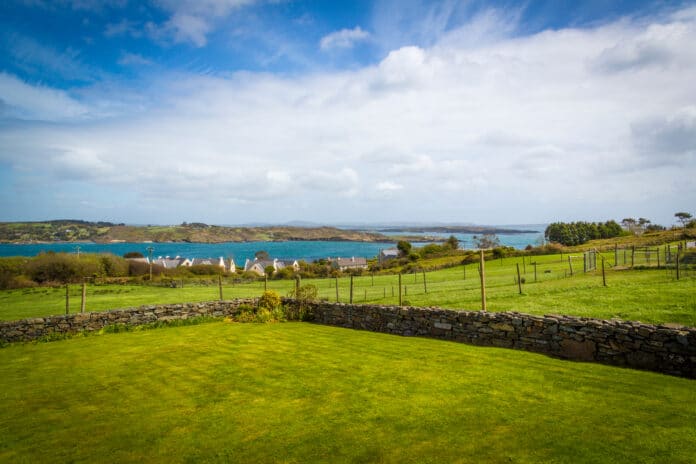 The tragic story of the horrific murder of French woman Sophie Toscan du Plantier outside her home in a West Cork village is about to be the subject of a major Netflix production. The three-part series will air next year and is being produced by award-winning production company Lightbox. Sophie's family have co-operated with the Netflix production.
Sky Studios is also producing a five-part series about Sophie and her horrific murder at her home at Toormore just outside the village of Schull in West Cork. Directed by Jim Sheridan the documentary will also air in 2021.
Both documentaries will feature former journalist Ian Bailey, who was convicted of Sophie's murder in his absence by the French courts. Bailey who has managed to beat several extradition requests from the French authorities has always strenuously denied involvement in the French TV producer's death.
Two days before Christmas in 1996, Sophie Toscan du Plantier's body was found by her neighbour Shirley Foster at the gateway on the lane that led up to Sophie's whitewashed West Cork retreat. Dressed in her nightclothes and some heavy boots, Sophie seems to have fled her holiday home in a bid to escape her attacker.
There was no evidence found to suggest that her attacker had been in her home but rather that Sophie had come to the door where she had been attacked. Her badly damaged body showed that she had been savagely assaulted. A post mortem examination proved that she had died from multiple severe head injuries. A concrete block was found near her body. Another weapon, which has never been found, was used to inflict killer blows to her face and head.
The first reporter on the scene was Ian Bailey, an Englishman who had moved to the Schull area two years previously and who was then living with his partner, artist Jules Thomas and her daughters at Jules' house called The Prairie. Bailey became the media's main source of information about the murder and soon became the Gardaí's chief suspect.
Multiple court cases have been brought by Bailey. He has taken libel cases against a host of media outlets. He lost against all but two newspapers. Files have been sent to the Director of Public Prosecutions (DPP) pertaining to the murder case but the DPP has always declined to prosecute due to lack of evidence. In particular, the DPP has cited the unsafe witness testimony of Marie Farrell, a former shop owner who lived with her family in Schull at the time of the murder.
Farrell was a key witness who changed her story on several occasions and became something of a celebrity herself when she appeared at one of the related court cases in Cork, alleging multiple sightings of Ian Bailey and threats to her and her family from the former journalist. Years later, she would attain a heightened level of notoriety once more in a court case in Dublin, where she alleged that all of her previous statements regarding Bailey were untrue and had been coached or coerced out of her by Gardaí. There was uproar in court when Ms Farrell alleged that more than one Garda had sexually propositioned her and that at least one had bared all in one attempt to seduce her while she was trying to get on with her job as a cleaner. Ms Farrell then ran from the court and refused to continue her testimony.
Throughout all of the many twists and turns of the case – the entire community was traumatised by the horrific murder in their area – no one has been brought to justice for Sophie's murder. The case became a spectacle, Ian Bailey a notorious anti-hero. Mr Bailey fears that he will be taken, illegally, to France.
The 39-year-old mother of one had intended to return home to Paris on Christmas Eve to spend the holiday with her husband, TV mogul Daniel Toscan du Plantier. Her son Pierre Louis, who was fifteen at the time of his mother's death, was with his father, Sophie's ex-partner. She told her husband, hours before her death, that she would be going to Cork airport the next day to catch a flight. Clearly, she never made that flight. The answer as to who stopped her catching a plane home lies down in West Cork.
The makers of the Netflix documentary say that theirs is the only documentary about the case and about Sophie produced with the co-operation of Sophie's family. Previously though, the internationally acclaimed Audible podcast, West Cork, featured interviews with members of Sophie's family, including Pierre Louis. Producers of the show, English journalists Jennifer Forde and Sam Bungey, spent years in West Cork trying to piece together the case and Sophie's life and death. They conducted multiple interviews with Ian Bailey, spending many hours with him at his home. mairead Farrel and a host of witnesses, neighbours and friends of all concerned contrinuted to the the lengthy examination of the case.
Pierre-Louis, now with a family of his own, has kept his mother's holiday home and regularly visits West Cork with his wife and children. The Bouniol family (Sophie's family of origin) along with her son, have never given up the fight for justice for Sophie. These two new high-profile documentaries hope to illuminate the case and tell the story of Sophie's life before it was viciously cut short on a moonlit December night in West Cork.