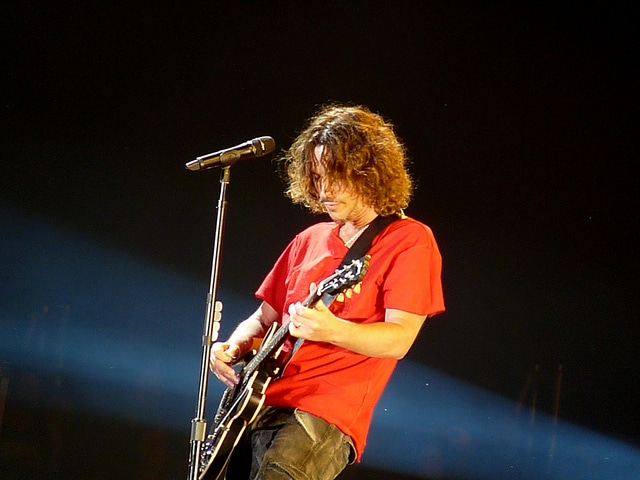 Seattle grunge legends Soundgarden premiere their new single called 'Storm'.
The new track is the band's first release in two years, since 2012's album King Animals.
The song is taken from the group's rarities compilation that is due to be released next month.
The collection is titled Echo of Miles: Scattered Tracks Across the Path and will be released on November 24th,with three discs full of B-sides, cover songs, Peel sessions, remixes and seven unreleased tracks, including "Storm."
Soundgarden's guitarist Kim Thayil said in a statement, "As album sets go, this one has been fun to collect and compile over the decades. I personally may have referenced this project a number of times over the years, going back almost 20 of them to the mid-Nineties!"
Disc 1, ORIGINALS, is filled with mainly B-sides in addition to two unreleased songs, 'Kristi' and 'Storm'. It includes tracks from the Singles soundtrack and compilation Sub Pop 200.
Disc 2, COVERS, features covers by Soundgarden of band's they truly admire, from The Beatles, the Rolling Stones, The Doors to The Stooges, the Ramones and DEVO. Also included are tracks performed during a John Peel session.
Disc 3, ODDITIES, offers instrumentals, remixes and demos, including Steve Fisk's unreleased "The Telephantasm (Resurrection Remix)", "Twin Tower," penned by Matt Cameron, which was originally recorded at Seattle's London Bridge studio in December 1988 during the sessions for Louder Than Love, and "Night Surf", an instrumental performed by bassist Ben Shepherd.
Listen to the new song 'Storm' below.
Echo of Miles: Scattered Tracks Across the Path track list:
CD 1 – Originals
1. Sub Pop Rock City
2. Toy Box
3. Heretic
4. Fresh Deadly Roses
5. HIV Baby
6. Cold Bitch
7. Show Me
8. She's A Politician
9. Birth Ritual
10. She Likes Surprises
11. Kyle Petty, Son of Richard
12. Exit Stonehenge
13. Blind Dogs
14. Bleed Together
15. Black Rain
16. Live To Rise
17. Kristi*
18. Storm*
CD 2 – Covers
1. Swallow My Pride
2. Smokestack Lightnin'
3. Everybody's Got Something To Hide Except Me And My Monkey (John Peel BBC Sessions)*
4. Thank You (Falettinme Be Mice Elf Agin) (John Peel BBC Sessions)*
5. Come Together
6. Stray Cat Blues
7. Into The Void (Sealth)
8. Girl U Want
9. Touch Me
10. Can You See Me? (Friday Rock Show BBC Sessions)
11. Homicidal Suicidal (Friday Rock Show BBC Sessions)
12. I Can't Give You Anything (Friday Rock Show BBC Sessions)
13. I Don't Care About You (Friday Rock Show BBC Sessions)
14. Waiting For The Sun (Live)
15. Search And Destroy (Live)
16. Big Bottom (Live)
17. Earache My Eye (Live)
CD 3 – Oddities
1. Twin Tower*
2. Jerry Garcia's Finger
3. Ghostmotorfinger
4. Night Surf*
5. A Splice Of Space Jam
6. The Telephantasm
7. Black Days III
8. Karaoke
9. Fopp (Fucked Up Heavy Dub Mix)
10. Big Dumb Sex (Dub Version)
11. Spoonman (Steve Fisk Remix)
12. Rhinosaur (The Straw That Broke The Rhino's Back Remix)
13. Dusty (Moby Remix)
14. The Telephantasm (Steve Fisk 2014 Remix)*
15. One Minute Of Silence
* Previously Unreleased