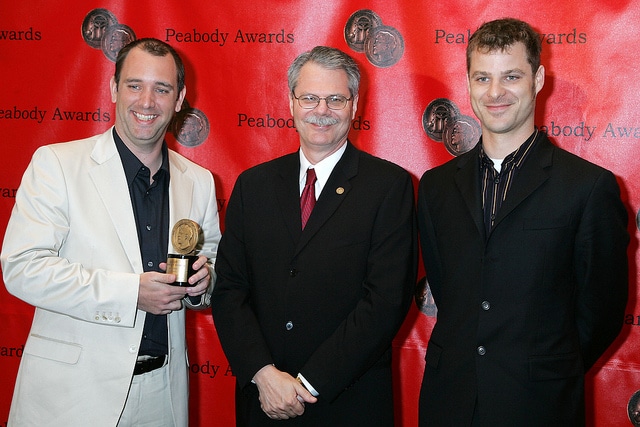 South Park's co-creator Matt Stone has taken a break from his beloved animation series to rock out with three other bands.
The event was organised by the Police's former drummer Stewart Copeland, who began filming impromptu jam sessions for his official YouTube channel is May 2011.
The gatherings take place at the drummer's personal home studio 'Sacred Grove', he has rocked out with the likes of Jeff Lynne (who was part of the supergroup Traveling Wilburys with Tom Petty, Bob Dylan, George Harrison),  Snoop Lion (formerly Snoop Dogg), The Police's guitarist Andy Summers, the American rock band Primus and Foo Fighter's Taylor Hawkins.
For his latest jam, Copeland was joined by Tool's drummer Danny Carey, Rush's drummer Neil Peart and South Park's Matt Stone.
Like any good session, it begins with someone shouting "a little more noise." In the video's description, Stewart writes: "Some new drums arrived, so Peart and Carey came over to lay heavy hands upon them. Scannell and I banged out any old riffs while Stone chimed the gongs. Couple days later, four more drummers dropped by and took up the horns. The piano was an afterthought."
Copeland told Rolling Stone: "I have some buddies come over, and we jam, we jam high, we jam low, we have a wonderful time, we have a lot of laughs, they leave. And then the next morning, I come in and see what I've got. And then I cut up these jams and add overdubs, and I turn these jams into tracks."
Check out the full jam below.