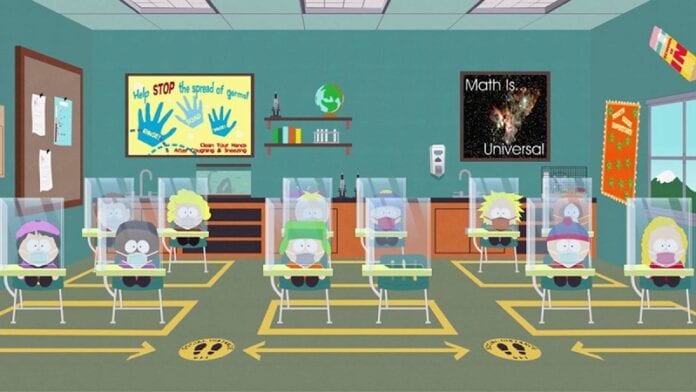 South Park is set to return next month with an hour-long vaccination special.
Writers Trey Parker and Matt Stone have named it South ParQ which indicates the new episode may poke fun at the QAnon movement in America.
In a tweet, South ParQ says "We Will Be Herd" which is a play on herd immunity.
It airs on March 10 and should hit Irish screens that week on Comedy Central.
According to reports, the new special will see residents of South Park get their vaccines despite a militant anti-vaxxer group doing their best to halt the vaccine rollout.
No other details about the new episode have been released.
Last year, South Park returned with an hour-long pandemic special. It detailed the role Randy Marsh and Mickey Mouse had in the spread of the Coronavirus pandemic.
The episode poked fun at the police in the Black Lives Matter movement while also highlighting the frustration of Zoom meetings.
In true South Park fashion, the pandemic special had many jokes at former President Donald Trump and it saw Cartman and Kyle fight each other which led to the only black character in the show, Token, being shot by the police.
If you haven't seen the episode yet, keep an eye on Comedy Central over the coming weeks as they should air it before the new one.
There have been reports that a new South Park movie may be in the works. Trey Parker and Matt Stone released 'South Park: Bigger, Longer And Uncut' in 1999.
It generated over 80 million dollars worldwide which made it the most successful animated R rated movie until Sausage Party in 2016.
The film earned an Oscar nomination for the song 'Blame Canada' but lost out to Tarzan. Famously, Parker and Stone attended the Oscars dressed as women and high on LSD.
Last summer, ViacomCBS' Grant Gish expressed an interest in making more movies and specials with Stone and Parker, saying: "As long as you're doing something new, and that could be anything from a new style to a new tone to a new voice coming from a specific writer, I think it can work."
South Park is currently renewed up to its 26th season. By the end of its current contract, it will become the longest running primetime sitcom in US cable history.
The show has been the highest-rated cable comedy in primetime for six consecutive years.

Photo Credit: Comedy Central.