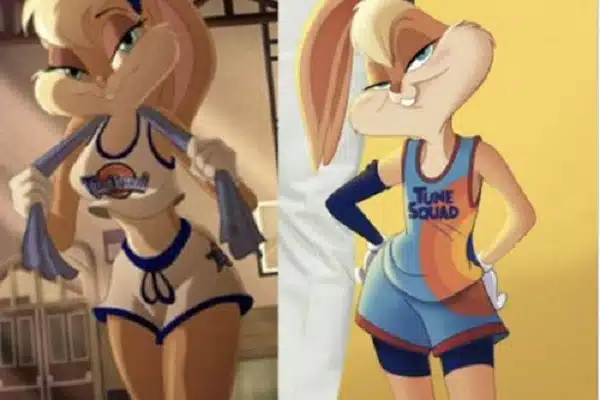 Space Jam director Malcolm D Lee has promised that Lola Bunny will not be "sexualised" in the upcoming sequel of the 1996 hit. Lee, who only watched the original film for the first time in 2019, was caught off guard by the "very sexualized" depiction of the female character.
"This is 2021. It's important to reflect the authenticity of strong, capable female characters," he said. Lola has been "reworked" for The Space Jam sequel to come across as less sexualised than in the original film and more "the team's best non-LeBron player."
At the time of the original film, animator Tony Cervone said the character's image in the 1996 movie saw her feminine attributes "pumped up". However, unlike other characters, many of which have been around since the 1930s, Lola has not got the same history. Since the character was created specifically for Space Jam, Lee was able to have her image redesigned and said it was "important to reflect the authenticity of strong, capable female characters" for him in 2021.
The Space Jam Director said Lola "probably has the most human characteristics of the Tunes; she doesn't have a thing like a carrot or a lisp or a stutter. So, we reworked a lot of things, not only her look, like making sure she had an appropriate length on her shorts and was feminine without being objectified, but gave her a real voice. For us, it was 'let's ground her athletic prowess, her leadership skills, and make her as full a character as the others'".
https://twitter.com/drakecereal/status/1367558270961946626?ref_src=twsrc%5Etfw%7Ctwcamp%5Etweetembed%7Ctwterm%5E1367558270961946626%7Ctwgr%5E%7Ctwcon%5Es1_&ref_url=https%3A%2F%2Fwww.nme.com%2Fnews%2Ffilm%2Fspace-jam-director-says-sequel-wont-sexualise-lola-bunny-2894874
Space Jam: A New Legacy is set to be released in the US on July 16th, while a UK release is yet to be confirmed. LeBron James takes the mantle and replaces former Chicago Bulls star, Michael Jordan, who played the original film's protagonist.
Don Cheadle is rumoured to appear in the sequel with James, while Klay Thompson, Damian Lillard, Diana Taurasi and Anthony Davis are all reportedly set to feature. In his first project since directing the record-breaking Black Panther, Ryan Coogler is teaming with LeBron on the long-anticipated sequel. James spoke with The Hollywood Reporter in 2018, where he expressed his excitement about the movie.
"The Space Jam collaboration is so much more than just me and the Looney Tunes getting together and doing this movie," James said. "It's so much bigger. I'd just love for kids to understand how empowered they can feel and how empowered they can be if they don't just give up on their dreams. And I think Ryan [Coogler] did that for a lot of people [with Black Panther]."