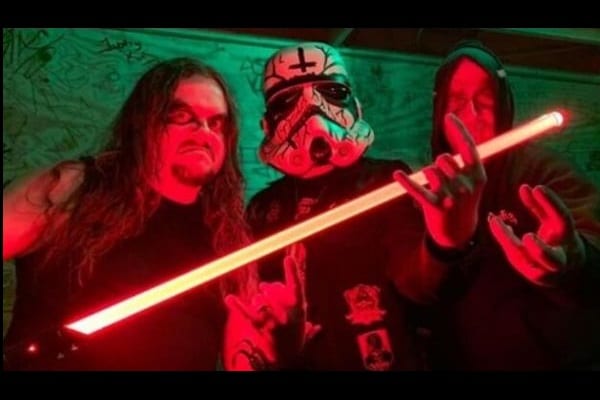 A Star Wars-themed Death Metal Band are set to release upcoming LP, Kyr'am Beskar'gam, in January 2022. Hailing originally from Korriban and now stranded in Atlanta, Georgia, Ecryptus released a teaser for their latest, themed death metal music.
New EP, Kyr'am Beskar'gam, is out January 14th via SBDC Records (Slamming Brutal Death Community) and will enthral metalheads across the galaxy. With a nod to the Star Wars mini-series, the new LP means 'Mandalorian for Death Metal' and follows previous material by the band.
Two demos released in 2002 and 2004, The Continuum LP (2005); Astral Crusades EP (2008) and a 7-inch single, Rancorous (2018/2020). Each of these helps tell tales of the Dark Side, one powerful side of the force used for evil and destruction. The tracks proceed to tell the story of the side's crusade against the tyranny of the rebel forces in Star Wars.
On the latest LP, Kyr'am Beskar'gam, Star Wars fans will be tempted to conscript to the dark side through four force reckoning tracks. Due out on January 14th, 2022, via SBDC Records (Slamming Brutal Death Community), the latest tracks tell stories of the Canon Arcane.
As soon as the world gets back to normal, and events begin to take up full capacity again, this Star Wars-themed death metal band would be a great night! Ecryptus is not a show to miss as the band carry out their dramatic rituals, where they wear armour and robes, while dressing the stage with trophies from recent death marks.
The epic Imperial galactic death metal of Ecryptus is recommended for fans of Morbid Angel, Immolation, and Suffocation, and of course – Star Wars. Check out the upcoming tracks on the latest LP from the Korriban band.
Track Listing:
Cauterized Saber Wound Massacre (4:12)
Planetary Enslavement (5:07)
Compulsion to Disintegrate (4:12)
Digested Over a Thousand Years (5:40)
EP Length: 19:12