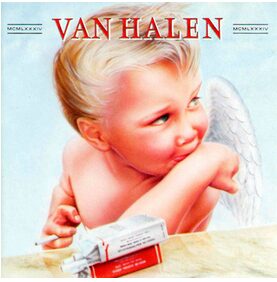 Ever wonder about how people from album covers look today? Well here's a few covers we have dug up and found out about, the people that are featured on them, and how they look today.
First up is the once controversial album cover by Van Halen, his "1984" album featuring an angel baby smoking a cigarette.
The image, believed by many to be the image of David Lee Roth when he was a baby, is actually not, the cover is a painting based on a photograph of a four year old boy named Carter Helm.
See below for then and now images.
Then


Now


Placebo
The next album cover is Placebo's self-titled Placebo album. The boy on the cover is a boy named David Fox.
An interesting story behind the cover is that Fox is trying to sue the band over the inclusion of the image on the cover. Why? Because he alleges that when he was younger he was bullied in school because of the photo being used on the album. He claims that his cousin gave the band permission to use the image on the cover and consequently his life has been destroyed because of it. You can read more detail about the story here:


Nirvana
One of the most iconic album covers of the 90's is Nirvana's "nevermind".The album features a naked underwater baby chasing a dollar on a fish hook. The photographer, at the time had no idea how big this album was going to be of how successful the band was going to become. The baby featured in the photograph was a baby named Spencer Elden.
Then


Now

This is Spencer Elden today in a recreated photograph of the album cover. Spencer lives in LA and works as an artist. He never received any royalties from the album cover.
Blink 182
This is the album cover of Blink "182's Enema of the State" album featuring a hot nurse snappng a rubber glove onto her hand. This hot nurse was actually porn star Janine Lindemulder. She decided to become a teacher, married Jesse James, returned to porn, divorced Jesse and was arrsted several times for assaulting him!
Then

Now

Bare Naked Ladies
This is the album cover of the Bare Naked Ladies album entitled "Born on a Pirate Ship". The boy's name is Marcus Priest. He came from a British family that had recently moved to Toronto in Canada. The cover originally had two boys on the cover but the band preferred the cover to only have the image of only one boy.
Then


Image of the two boys.
Now



Marcus now lives in the UK with his wife and two kids.