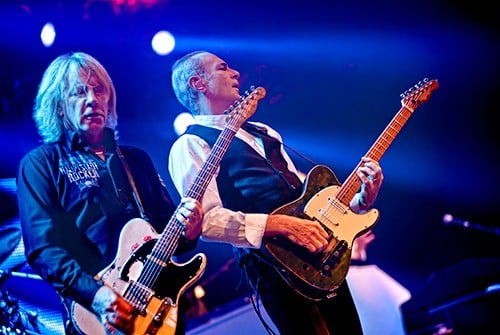 Status Quo guitarist, Rick Parfitt was clinically dead for three minutes following a heart attack in June this year.
Status Quo manager, Simon Porter said "Now is the time to reveal that Rick actually 'died' for several minutes directly following his heart attack, which resulted in mild cognitive impairments for which he continues to receive neuropsychological support."
The guitarist had the heart attack after the band played a show at Expo 2016 in Turkey, which has lead him to pull out of all shows that the band have for the rest of the year.
Although Parfitt is due to make a full recovery, his future in live performances with the band is unknown as he is making his children his priority. Porter told Contact Music "Rick may well have performed his last show with Quo, but no final decision will be made until next year. Regardless, it is his wish that the band continue to tour as planned and he will always be a part of Quo's numerous other off stage activities."

The heart attack was the 67 year old's fourth. After suffering his first in 1997, the guitarist said that his previous cardiac arrest in 2014 was the one which encouraged him to give up smoking and alcohol after 50 years.
Parfitt is currently being replaced by guest guitarists for Status Quo's current tour, which ends at the beginning of December.
Photo Cred: Tom Van Ghent