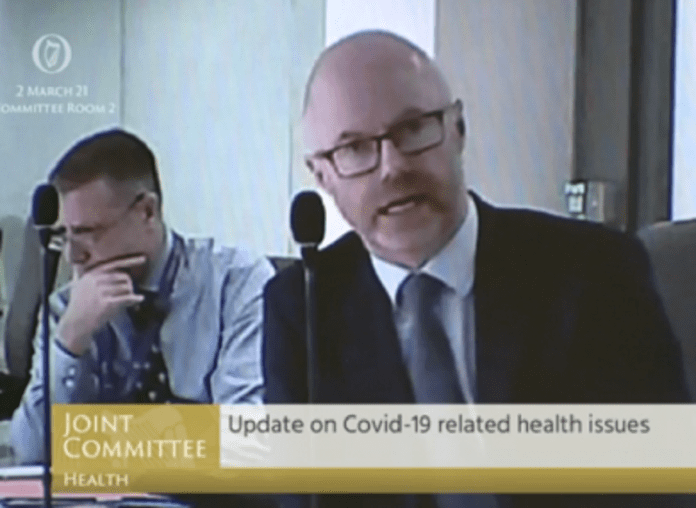 Minister for Health Stephen Donnelly has said that a "large majority" of over 85s will receive their first vaccine by Sunday.
It is expected that around 500,000 doses of the vaccine will have been administered by the end of the week according to Mr Donnelly.
520,000 doses of the vaccine have been delivered and the majority of those 20,000 are being held back for second doses.
Stephen Donnelly has said that some over 85s may not be able to get their vaccine by the end of the week if they are not well enough to travel to their GP clinic or a vaccination hub.
He has said that measures will be put in place to deal with these particular cases.
The Minister for Health was speaking to the Oireachtas Committee on Health yesterday. He mentioned that healthcare staff are "exhausted" before adding that "the pressure has eased in hospitals" which is good news.
Mr Donnelly also noted that infections among Irish hospital staff has dropped by around 95%.
"The good news is the pressure has eased. We've seen today that the number of Covid cases in hospitals has reduced below 500, which is very, very welcome."
"The Chief Clinical Officer, the figures he's given are very encouraging in terms of the impact the vaccine is having. Now it's not just the vaccine, it will be lower community transmission as well."
Stephen Donnelly added "But from memory, the Chief Clinical Officer was citing figures that suggested about a 95 per cent reduction in Covid infection rates for hospital staff, which is very encouraging."
In recent times, cases, deaths, hospitalisations and rolling day averages have fallen. The impact of Level 5 lockdown measures and the rollout of the vaccine is helping ease the Coronavirus state of play in Ireland, which at the turn of the year, was the worst in the world.
The HSE missed its vaccination target of 100,000 vaccines last week.
In total, 81,843 vaccines were administered.
In a statement, the HSE said it was alerted by AstraZeneca late last week that two deliveries, one last week and one this week, totalling 25,000 vaccines, were deferred.
It said that this will have an impact on vaccines administered both this week and last week.
The HSE has said the shortfall will be recovered later on in the month.
The latest figures from Ireland's Covid-19 Data Hub show that 439,782 vaccines have been administered.
These include 297,899 first doses and 141,883 people have received their second dose.
Earlier this week, Tánaiste Leo Varadkar wrote in a letter to members of Fine Gael's parliamentary party that 300,000 doses of the vaccine will be used every week in April. You can check out our report on it here.