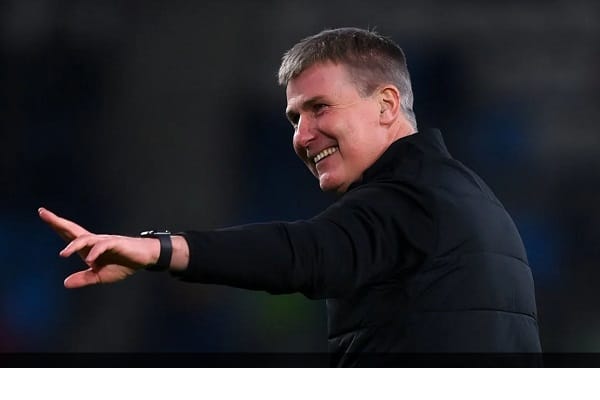 Republic of Ireland manager Stephen Kenny has hit out at "disparaging" comments made post match from his Luxembourg counterpart Luca Hotlz, regarding Irish players from the past.
Ireland beat Luxembourg last night 3-0 to leapfrogg their opponents in the final qualifying standings. Second half goals from Shane Duffy, Chiedozie Ogbene and Callum Robinson ensured Ireland's second win from their last three matches from the group.
Stephen Kenny's future as manager has been subject to debate. With eight months remaining on his current deal, many people have called for a contract offer to be put on the table for the former Dundalk supremo to take Ireland into the qualifying campaign for Euro 2024.
It has also led to some firery exchanges of views between pundits like Liam Brady and Richie Sadlier. More on that story here.
"radical changes"
Following this impressive win, Stephen Kenny said that future is bright for a team he has built.
"We needed to make radical changes, we capped 16 new players – it's been a radical change", Kenny said.
He also added, "The spine of the team is still there, we are putting ourselves in place to have a strong Nations League campaign and leading on from that a really strong campaign to qualify for the Europeans Championships".
On his contract situation Kenny stated, "That's the way I've always viewed it, whether it was decided it was me or not. I've tended not to be fixated on it (the contract), what will happen will happen". 
"British style"
Stephen Kenny was also quick to defend the style of play of previous Irish managment teams. The manager also blasted post match comments from Luxembourg manager Luca Holtz who said that Ireland play a "British style" game.
Along with blaming the referee for last night's defeat, Holtz also accused the Irish managment of unsporting conduct afterwards.
"I'm very disappointed with the behaviour of the staff of Ireland", Holtz said. "They played the big guys because they were winning. That is not very fair play". 
Kenny took exception to these remarks.
"I'm disappointed that he denigrated all the great players that played for Ireland", he said.
He continued, "Denis Irwin, Roy Keane, all the players before that…John Giles, Liam Brady, Paul McGrath and Mick McCarthy". 
"All these players who represented Ireland, and Robbie Keane and Damien Duff, and the great players in the modern era".
"It is wrong to say they just fought for second balls and that it was caveman football for 100 years", Kenny added. "To say that was unacceptable."