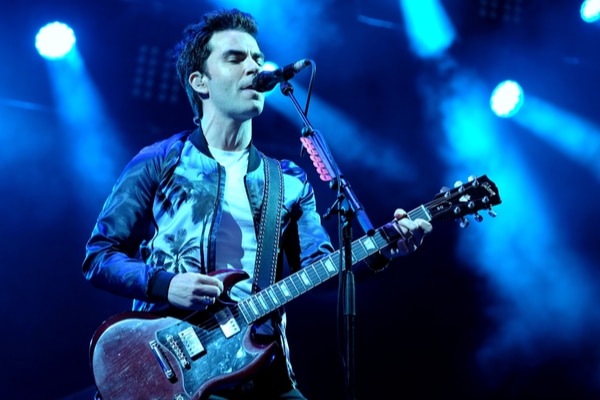 Stereophonics have announced their 12th studio album "Oochya". The band shared this news be releasing their recent single "Hanging On Your Hinges".
2022 will see the band celebrate their 25th anniversary. "Oochya" is the band's first album since "Kind" in 2019. Frontman Kelly Jones also released his solo album "Don't Let The Devil Take Another Day".
"Oochya" will come out on 4 March 2022.
Stereophonics will also finish off 2021 with a festive tour in December at Cardiff's Principality Stadium.
"90 per cent utempo"
Speaking to NME, Sterophonics frontman Kelly Jones said that the album is a "90 per cent utempo". It also grew from plans to release a compilation album, celebrating 25 years since the band's first single "Looks Like Chaplin" released in 1996.
Recorded in just a week, "Oochya" was also produced by Kelly Jones with regular Stereophonics producers George Drakoulias and Jim Lowe.
'Oochya!' began from planning that anniversary hits compilation. I began rooting through hard drives to see what to put on it. As I did that, I was finding songs we'd never released. Three or four songs on 'Oochya!' are built on those, and it led me to writing a bunch of new songs too. We've always been about trying to find new audiences with new music, and it started to feel a compilation was too easy", Jones said.
"But, when we got to our studio, it didn't feel like we were necessarily making a new album either. We were only together recording as a band for a week. A lot of 'Oochya!' was done live. The funny thing is, having thought about a hits compilation, people who've heard 'Oochya!' say it sounds like a 'Best Of' album, just of songs you've never heard before. It's like a mixtape, with a lot of different styles on there".
Kelly Jones also spoke about the new single "Hanging On Your Hinges".
"It's a very uplifting, good-time song that smacks you in the face and we wanted to come back with a song like that", he said.
"It's a pretty gnarly song with a great guitar tone. As a kid, I loved Billy Gibbons' style in ZZ Top. Our producer George Drakoulias was shouting encouragement at me in the studio and it was f*****g great doing the guitar solo".
Tracklist for Oochya.
1. 'Hanging On Your Hinges'
2. 'Forever'
3. 'When You See It'
4. 'Do Ya Feel My Love'
5. 'Right Place Right Time'
6. 'Close Enough To Drive Home'
7. 'Leave The Light On'
8. 'Running Round My Brain'
9. 'Every Dog Has Its Day'
10. 'You're My Soul'
11. 'All I Have Is You'
12. 'Made A Mess Of Me'
13. 'Seen That Look Before'
14. 'Don't Know What Ya Got'
15. 'Jack In A Box'
📣 *Breaking News* Stereophonics to play Principality Stadium on Saturday 18th December, "We'll Keep A Welcome".

Supported by very special guests Sir Tom Jones and Catfish and The Bottlemen!

Tickets on sale Friday 10th September, 9am.

👉 https://t.co/2SQPmAX7Fz pic.twitter.com/jvtDJ9fveQ

— Principality Stadium (@principalitysta) September 6, 2021