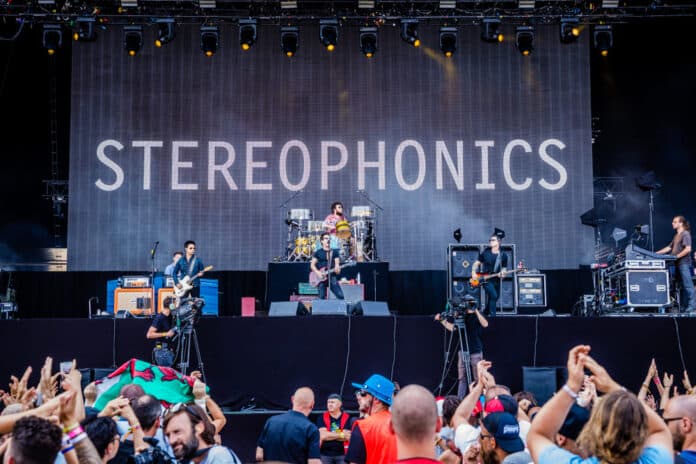 A sound engineer for the Stereophonics has said it wasn't their call to cancel their controversial Cardiff concerts at the beginning of the lockdown back in March.
The Welsh band played two concerts at Cardiff's Motorpoint Arena on March 14 and 15 this year. That weekend all elite sporting fixtures were cancelled in the UK. Earlier that week, Liverpool played Atletico Madrid in the Champions League at a sold out Anfield. That match lead to 41 deaths due to the coronavirus. Cheltenham festival also took place that week which was a cause for the surge in the virus in both Ireland and the UK.
At the time of the concerts in Cardiff, there was much public outcry that the gigs were taking place. Stereophonics posted a picture of the concert on Twitter with the caption 'Cardiff is rockin'!'
Cardiff is rockin'! #stereophonics #Kind2020Tour pic.twitter.com/vndm4MeD71

— stereophonics (@stereophonics) March 14, 2020
Now, in an interview with BBC Radio Wales, sound engineer for the Stereophonics, Dave Roden discussed the controversial concerts.
"I remember doing the last Stereophonics show in Cardiff arena and there was a bit of a hubbub going on as to whether we should have been doing the show. But when you're in the bubble, you're just concentrating on the work. We've had questions before with snow as to whether a show should go ahead. n the end, it's not our call. That's up to usually the police or the local authority or something – it's out of our control. We just do what we do."
Roden went on to say "And when we heard that this was the last show that was happening possibly in the country at that time, I honestly was like everybody else and thought a fortnight or a month and it will all blow over".
"But as the time went on in that following week it became apparent that things were not just going to blow over. Within a week it became very apparent that all of the shows had either been cancelled or rescheduled."
The Welsh Government said at the time the "clear public health advice was that cancelling mass gatherings was not required".
No official figures were released on how many cases of coronavirus could be linked to the Stereophonics concerts. However, the concert, along with the Liverpool match and Cheltenham festival were highlighted as one of the reasons as to why the UK handled the beginning of the pandemic so poorly in comparison to Ireland.
Hindsight is a beautiful thing, but with coronavirus rampaging through Europe in March, it is fair to say that these events should have been postponed until a safer time. Many bands throughout history have made the call to cancel or rearrange concerts without the advice of local authorities. The Stereophonics could have made the call to postpone the gigs.