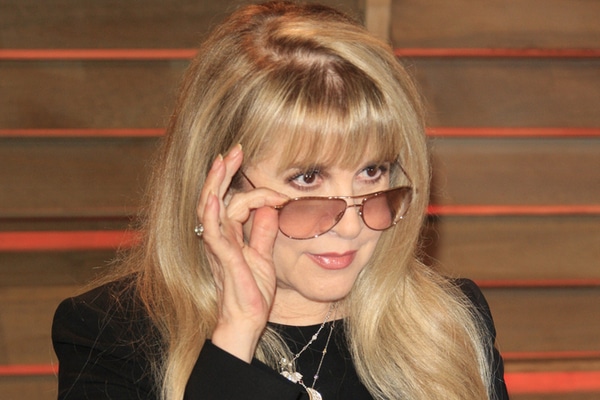 Stevie Nicks has spoken about her past cocaine addiction in a new interview.
The Fleetwood Mac star has said she "saved" herself from drugs.
Speaking to country singer Tim McGraw on his Apple Music show Beyond The Influence Radio, Nicks said her addiction didn't define her and that if she penned her memoirs she would probably leave out that period of her life.
The 73-year-old singer said she kicked the drug without anyone else's help.
"I managed to save myself," Nicks told McGraw. "I got through some pretty scary moments, but I saved me, nobody else saved me. I survived me. I survived my cocaine. I survived by myself. I checked myself into rehab. Nobody did that for me. I did it and that's like with my whole life. So I would dance over those parts just to give the wisdom out to people."
Nicks developed an addiction to cocaine in the 1970s after joining Fleetwood Mac along with her then boyfriend Lindsay Buckingham. Such was the scale of her cocaine abuse that one side of the bridge of her nose was gradually burnt away over time. As part of their pre-show ritual, the band members would collectively snort cocaine before going on-stage. Nicks and fellow Mac vocalist Christine McVie wore gold and diamond encrusted cocaine vials around their necks, which McVie once described as "little beautiful coke bottles."
Nicks' drug habit escalated while she was having an affair with bandmate Mick Fleetwood. The pair were always the "last two people at a party," Nicks said in an interview with Oprah Winfrey. "It was a doomed thing that caused pain for everybody."
One incident almost left Nicks blind. Partying for 48 hours straight, Nicks had forgotten to take out her contact lenses. A touring band manager intervened before any significant damage could be done to Nicks's eyes.
It was while recording 1987's Tango in the Night that Nicks realised just how out of hand her drug abuse had gotten. Following numerous blackouts, a doctor warned Nicks that she was dangerously close to suffering a brain haemorrhage.
"All of us were drug addicts, but there was a point where I was the worst drug addict," Nicks admitted. "I was a girl, I was fragile, and I was doing a lot of coke. And I had that hole in my nose. So it was dangerous."
Kicking cocaine in the late '80s, Nicks spent a further nine years addicted to prescription drugs before ultimately embracing sobriety in the mid-90s.
Nicks recently cancelled all of her scheduled 2021 live performances amid concerns over the continued spread of COVID.