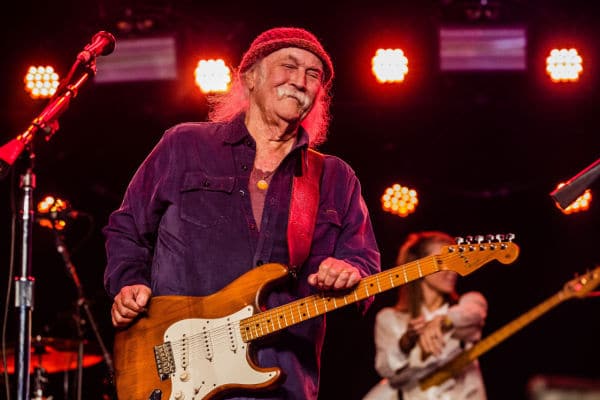 Beloved bandmates Graham Nash and Stephen Stills have paid tribute to their late colleague David Crosby, who died aged 81.
Crosby's death was confirmed by his wife Jan Dance, who said that her husband died after a "long illness".
"It is with great sadness after a long illness, that our beloved David (Croz) Crosby has passed away. He was lovingly surrounded by his wife and soulmate Jan and son Django", she wrote.
"Although he is no longer here with us, his humanity and kind soul will continue to guide and inspire us. His legacy will continue to live on through his legendary music". 
"Peace, love, and harmony to all who knew David and those he touched. We will miss him dearly. At this time, we respectfully and kindly ask for privacy as we grieve and try to deal with our profound loss. Thank you for the love and prayers". 
Hey Mr Tambourine Man
David Crosby burst onto the scene when he joined folk rock group, The Byrds in 1964. The band included Gene Clark, Roger McGuinn, Michael Clarke and Chris Hillman.
During his time with the band, Crosby collaborated on a cover of Bob Dylan's 'Hey Mr Tambourine Man', which reached number one in the US singles chart.
After leaving the band three years later, Crosby struck up with Graham Nash and Stephen Stills, forming their own group, along with Neil Young.
In his time there, Crosby wrote tracks including 'Almost Cut My Hair', 'Deja Vu', 'Guinnevere' and 'Long Time Gone', before leaving the group in the 1970s.
"a giant of a musician"
Paying tribute to Crosby, Graham Nash took to Instagram.
"It is with a deep and profound sadness that I learned that my friend David Crosby has passed", he wrote.
"I know people tend to focus on how volatile our relationship has been at times, but what has always mattered to David and me more than anything was the pure joy of the music we created together, the sound we discovered with one another, and the deep friendship we shared over all these many long years. David was fearless in life and in music.
"He leaves behind a tremendous void as far as sheer personality and talent in this world", he added.
"He spoke his mind, his heart, and his passion through his beautiful music and leaves an incredible legacy. These are the things that matter most". 
Hailing him as a "giant of a musician", Stephen Stills released this statement.
"David and I butted heads a lot over time, but they were mostly glancing blows, yet still left us numb skulls. I was happy to be at peace with him", he said.
"He was without question a giant of a musician, and his harmonic sensibilities were nothing short of genius. The glue that held us together as our vocals soared, like Icarus, towards the sun".
"I am deeply saddened at his passing and shall miss him beyond measure". 
This was the late singer's tweet the day before his death.
I heard the place is overrated….cloudy https://t.co/Bpl7pM9k7s

— David Crosby (@thedavidcrosby) January 18, 2023
Last May, Crosby revealed he was retiring from touring. More on that here.