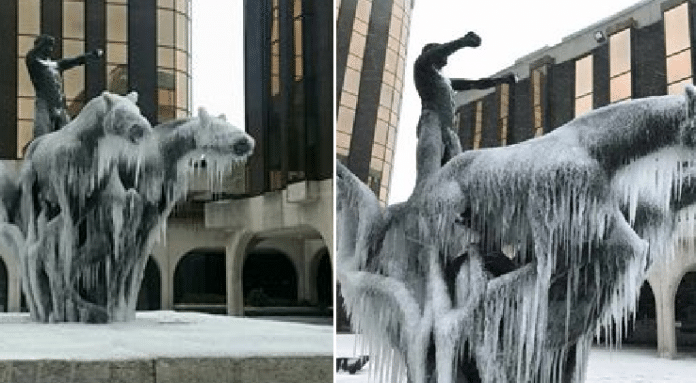 Ireland actually looks like a scene from the kids movie Frozen right now and we are in awe.
These photos and videos have been captured throughout the country over the past couple of days and they are bloody awesome – Elsa would be proud of this paradise!
How beautiful are these snaps? Some people were braver than us and faced the elements to capture these!
Thanks Dean Malone! "Cool" pics 📸 from #AbbeyStreet #TalbotMall Irish white walkers??? 😂#gameofthrones #irishlife #thebeastoftheeast #StormEmma ❄️ pic.twitter.com/DsQ85KWuEE

— Radio Nova 100 (@radionova100) March 1, 2018
Then I remembered a view of the Ha'penny bridge I'd been trying to get for ages, but it never worked out…there was always traffic.

Not this time though.#Dublin #Ireland #Photography #architecture #BeastFromTheEast #WinterIsHere pic.twitter.com/QnvC3Kruld

— Andy Sheridan (@jnrbaker) March 1, 2018
Ireland ❄️ St Coleman's Cathedral, Cobh #BeastFromTheEast #Cobh #Cork #Ireland #BeastFromTheEastireland #CorkTraffic #cork weather #CorkToday #CorkSnow pic.twitter.com/92jSWajqC8

— Kieron O'Connor Photography (@KieronOC) March 1, 2018
Golden hour along the Wild Atlantic Way in Sligo

Fantastic picture by Northcore Surf. #Sligo #Ireland #WildAtlanticWay pic.twitter.com/c6QxbgiiAP

— Best Of Sligo (@BestOfSligo) February 28, 2018
Drone shot of the amazing Aviva Stadium. (Flight approved by the IAA) #avivastadium #aviva #dublin #ireland #drone #aerial #aerialphotography #dronephotography #beastfromtheeast #beastfromtheast #beastfromeast #Snowmageddon #ShoulderToShoulder #sneachta #flight #TeamOfUs ❄️ pic.twitter.com/hhgByV2ieY

— Aerial.ie (@aerial_ie) March 1, 2018
https://twitter.com/sophie_owsianka/status/969542415777398785
https://twitter.com/NiallwMorris/status/969387617925156864
I've been on icicle watch for the past few days. These bad boys are getting mighty impressive now! #Snowmageddon #snowday2018 #StormEmma ireland pic.twitter.com/LEE8RZIEAS

— Melanie May (@_melaniemay) March 2, 2018
Next stop Capel Street. I've always loved this vista up to City Hall, but I'd never seen it like this before… #Dublin #Ireland #Photography #sneachta #architecture #BeastFromTheEast pic.twitter.com/OmVrgQHkhS

— Andy Sheridan (@jnrbaker) March 1, 2018
Monastic site in Kells with some snow @OldeEire @meathheritage @meathtourism @BOOKMARKETcafe @meathchronicle #Ireland #Meath #kells pic.twitter.com/XnoKsl8nmm

— paul hayes (@paulhayes55) February 28, 2018
#sneactha snaps from St Annes, Clontarf and Dollymount by Shane Regazzoli 📸 #SNOVA #BeastFromTheEast #StormEmma #StatusRed pic.twitter.com/ytj4vneX5I

— Radio Nova 100 (@radionova100) March 1, 2018
Wait Until You See These Snaps Of A Snow Covered Dublin Zoo – https://t.co/gFhB2ZT4G6 pic.twitter.com/fJMtTutzpT

— Radio Nova 100 (@radionova100) February 28, 2018