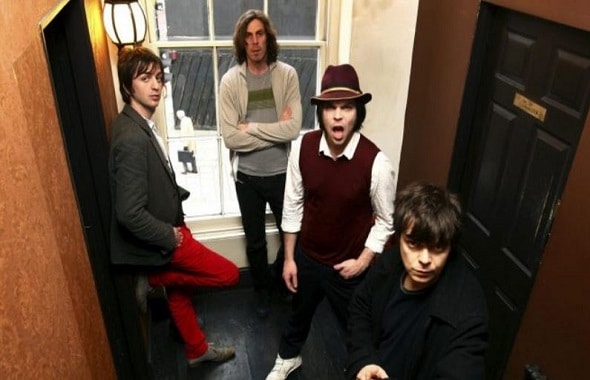 Oxford's finest melodic rockers Supergrass will be unleashing their adrenaline-fuelled tunes of fun at The Olympia on a special Valentines Day gig at The Olympia next year.
If your date has gone well you can also come back for more as Gaz and co will also paly the venue on the 15th of February 2020 as well.
The band announced that they are reforming for a tour of theatres in Ireland, UK, Europe and North America.  It all kicks off in Paris on 4th February.
They are also releasing a 'Best of…' package called "Supergrass: The Strange Ones 1994-2008.
The box set, marking the 25th anniversary of 'I Should Coco' is being released in celebration of their incredible career, and is going to be released in January.
It contains; the band's six original albums on picture disc LP and CD, bonus CDs of unreleased live material, B-sides, remixes, rarities, studio out-takes, demos, acoustic versions, oddities, new mixes, a deluxe book, posters and button badges.
Did you know… 5 facts about Supergrass;
The band is made up of; Gary Coombes(born 1976), vocals, guitar; Danny Gofffey (born c. 1975), drums; Mickey Quinn (born c. 1970), bass.
The term 'Supergrass'is a British slang term for an informant who turns Queen's evidence, often in return for protection and immunity from prosecution. In the British criminal world, police informants have been called "grasses" since the late 1930s, and the "super" prefix was coined by journalists in the early 1970s to describe those who witnessed against fellow criminals in a series of high-profile mass trials at the time.
They were originally called Theodore Supergrass for two months, but soon decided that, "Theodore was a bit rubbish so we took that off."
At the age of 16 and 18 respectively, Gaz Coombes and Danny Goffey were members of a shoegaze band called 'The Jennifers' along with Nick Goffey and Andy Davis.
The group formed in Oxford, England, in 1993; first single, "Caught by the Fuzz," released, 1994; "Alright" reached number one on the British charts, released first album, I Should Coco,1995; released In It for the Money, 1997; released Supergrass,
Goffey claims that the band name was his idea and says; "Although the others will dispute it, it was me. We were Theodore Supergrass and the idea was the band would be a little black character, and we wouldn't ever have to do interviews. We'd get the questions in advance, script the answers and then animate Theodore Supergrass answering them. But it cost too much money."
The band only recently reformed, getting back together in July of this year, but unfortunately for their legion of fans, they have no intention of writing any new material for the foreseeable future…
Fortunately though, the boys are all doing their own things, with Gaz Coombes having a pretty successful solo career of his own. He released his third solo album, 'World's Strongest Man' in May of 2018 and also launched the single, 'Deep Pockets' in January of that year. The album charted at number 12 on the UK Albums Chart.  .
Friday 14th February 2020 & Saturday 15th February 2020 – Doors 7pm. Tickets priced € 45.20 are available from Ticketmaster outlets and online.