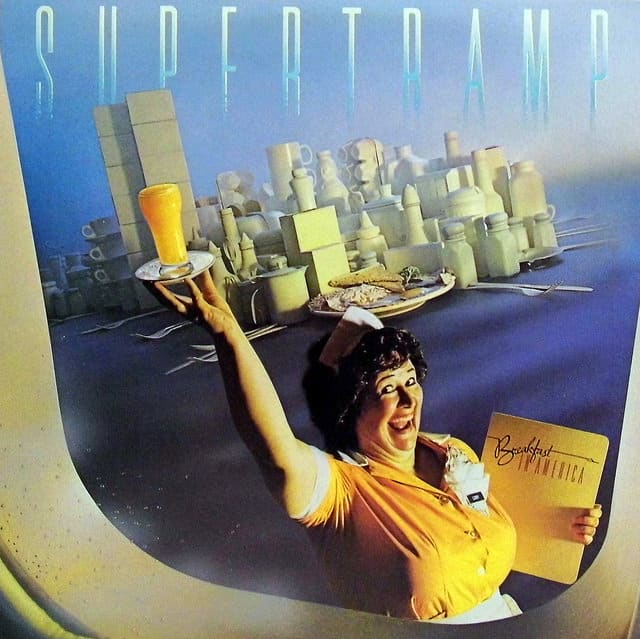 Breakfast in America is the sixth studio album by Supertramp and it was released on the 29th of March, 1979. The album would spawn a total of four hit singles on the US Billboard charts.
Supertramp's roots lay in progressive rock. The British band draw influences from their progressive contemporaries of the time and commercial successes, most noticeably the Beatles. Their first few albums in the early 70s were strictly progressive albums, but as they continued to find more and more commercial success, they moved to a much poppier sound and attempted to create commercial success.
However, the prog keyboards remained, they kept their woodwind instruments an immense and vital part to the band's music, and the song lengths exceeded the normal pop standards, most capping out at over 5 minutes. Supertramp's largest success came with Breakfast in America.
With Breakfast in America, Supertramp had a genuine blockbuster hit, topping the charts for four weeks in the U.S. and selling millions of copies worldwide; by the 1990s, the album had sold over 18 million units across the world.
Although their previous records had some popular success, they never even hinted at the massive sales of Breakfast in America. Then again, Supertramp's earlier records weren't as pop-oriented.
The majority of the album consisted of tightly written, catchy, well-constructed pop songs, like the hits 'The Logical Song,' 'Take the Long Way Home', and 'Goodbye Stranger'. Supertramp still had a tendency to indulge themselves occasionally, but Breakfast in America had very few weak moments. It was clearly their high-water mark.
Tracklist:
1. Gone Hollywood
2. The Logical Song
3. Goodbye Stranger
4. Breakfast In America
5. Oh Darling
6. Take the Long Way Home
7. Lord It Is Mine
8. Just Another Nervous Wreck
9. Casual Conversations
10. Child of Vision
Photo Credit: Joe Haupt