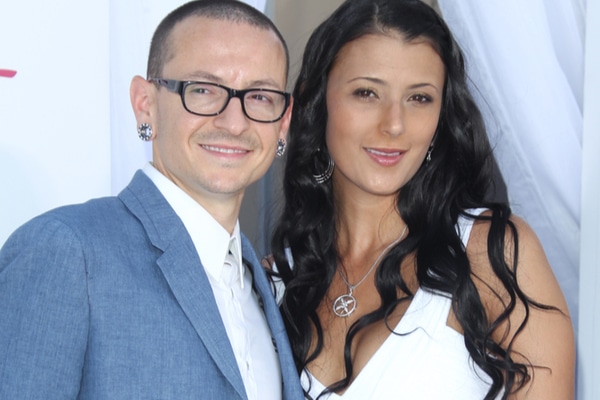 On what would have been his 46th birthday, Talinda Bennington has paid an emotional tribute to her late husband Chester. Former Linkin Park frontman Chester Bennington died from suicide in 2017.
Every year since his death, Talinda Bennington has shared an emotional tribute to Chester to mark his birthday.
"pain doesn't get any easier"
Writing that the "pain doesn't get any easier", Talinda Bennington shared this heart-wrenching message via Instagram, "The pain doesn't get any easier but you get used to it is what they say. I'm not sure I believe that at all". 
"There's no getting used to this type of grief. I'm doing my best to raise our babies the way we always talked about. You were my other half and it is so hard walking without you. I love you and we are celebrating you today". 
Talinda Bennington has been an outspoken advocate for mental health since her husband's tragic death.
Back in 2018 a year after Chester's death, Talinda set up a non-profit organisation called 320 Changes Direction. This organisation aims to make resources available to people struggling with mental health. She also wants to "change the culture" regarding attitudes towards mental health.
Talinda Bennington also received a 'Mental Health Ambassador' award back in 2020. She received this award from Didi Hirsch Mental Health Services which are a non profit organisation which have provided mental health, suicide prevention and substance abuse services for the last 75 years.
Chester Bennington Tributes
Last July, Talinda led tributes to Chester Bennington to mark 4 years since the singer's death. 
"You always had a way to make us all laugh. You always made everything better. And when you put this lettuce cup on your head to make us laugh because our food was taking forever, you made everything better once again", she tweeted.
"I'm so glad that the kids and I have vast amounts of pictures and videos to remember you by. We miss you every second of every day. You were the best person I have ever known. I see you in our babies every day. Lily is your mini me, with her looks and beautiful voice. Tyler has your wit, intellect, looks, and the same obsession for trying to figure out space and time. And Lila, she has your heart of gold". 
Talinda has also been using the hashtags #FuckDepression and #MakeChesterProud to support people battling depression.