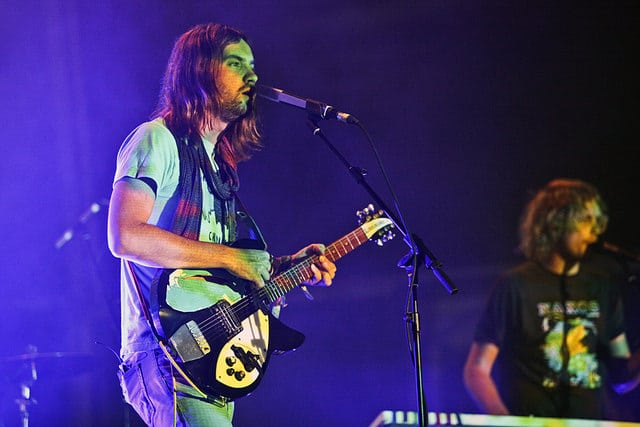 Tame Impala & Florence & The Machine will both appear next week on the US television show The Late Show With Stephen Colbert. Colbert recently took over from iconic US television presenter David Letterman.
There have been a host of recent announcements surrounding the different acts that are set to appear on the show. Supergroup The Dead Weather recently appeared on the show performing their new single 'I Feel Love (Every Million Miles)'.
The likes of Paul Simon and Black Keys frontman Dan Auerbach and his new side project The Arcs, have performed live on the show so far. The recent news was confirmed by New York Times journalist Dave Itzkoff who tweeted about the performances by Tame Impala & Florence & The Machine.
Itzkoff confirmed that Florence Welch will perform on Tuesday October 6th, with Tame Impala playing the following day on Wednesday October 7th.
Both artists released new albums this year with Florence & The Machine releasing How Big, How Blue, How Beautiful. Tame Impala released their third studio album Currents earlier this year as well.
They also both recently played at Electric Picnic in Stradbally earlier on this month with Florence & The Machine headlining on the Sunday night.
Photo Credit: scannerFM