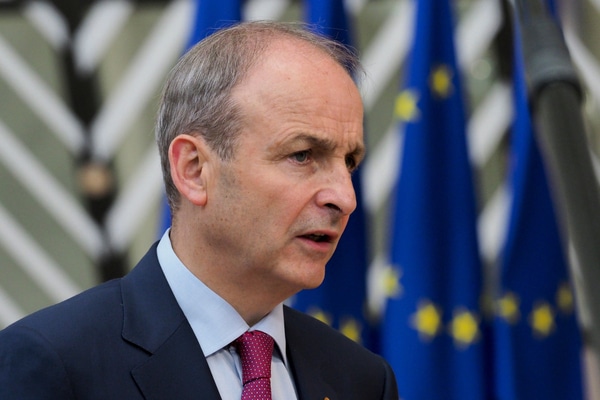 Taoiseach Micheál Martin has flown to Washington to meet US President Joe Biden.
Mr Martin took an Air Lingus flight out of Dublin Airport around midday yesterday (March 14). It was also reported that the Taoiseach had flown in business class.
This is Mr Martin's first visit to the White House, having been unable to attend last year due to the pandemic. It has been understood that his wife Mary is accompanying him to this meeting.
They (Biden & Martin) are expected to talk about several important issues, with the ongoing situation with Russia and Ukraine an undoubted key topic of conversation. See here.
They are also expected to talking about Ireland's econimic ties with the US, along with ongoing support for the Good Friday Agreement.
"interested in having that discussion"
Speaking ahead of this trip, Micheál Martin mentioned some of the topics he is keen to discuss with President Biden.
"We now have the brutal manifestation of that in terms of the war in Ukraine. So I'll be interested in having that discussion with him", he said.
He continued, "And in addition to that then, it's an opportunity to reset the economic relationship and how that's maturing and evolving in respect of the number of Irish companies who are investing in the US. They are creating jobs in the US and of course the American multi-national companies who make an enormous contribution to the Irish economy".
"And then the cultural and artistic dimension, we would like to push that forward".
"We're on the cusp of the opening of the New York arts centre for example, which will be a beacon in New York for Irish art and Irish-American artists".
"That's something the Irish Government have been a part of for a long time. I think those are the areas we want to progress", Mr Martin added.
"And also, we'll look at ways to help the undocumented in the United States and ways we can establish more channels between Ireland and the US in terms of people travelling to and fro on the visa front".
Micheál Martin Meeting Schedule
During his stateside visit, Mr Martin is to attend a number of events.
Tomorrow, the Taoiseach is expected to attend a series of economic events, including a Women in Business Executive Roundtable.
They will also include a US Chamber of Commerce and Science Foundation Ireland Event and the Ireland Funds 30th National Gala.
Mr Martin is to spend most of Thursday at the White House and Capitol Hill. He is to attend a breakfast at the Naval Observatory in Washington. This event will be hosted by vice president Kamala Harris.
The Fianna Fáil leader will also attend a traditional St Patrick's Day lunch. This will take place with Friends of Ireland caucas of political son Capitol Hill. Speaker of the House Representatives, Nancy Peliso will host this event.
Mr Martin and Mr Biden will later meet at the Oval Office. Both leaders will take quuestions from the media there.
Joe Biden will then receive a traditional Shamrock bowl from Micheál Martin. This extends St Patrick's Day greetings from Ireland to the US.
The White House themselves said they were looking forward to enhancing the relations between the two countries. They also said they will discuss a wide range of issues, from global health, to the pandemic and climate crisis.