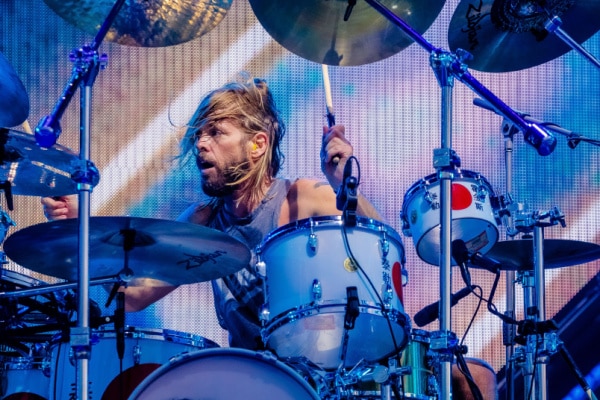 Music equipment from the two Taylor Hawkins Tribute shows are going under the hammer in ths US, it has been confirmed.
This auction which has been organised by Julien's Auctions, will include equiment from the show at London's Wembley Stadium on September 3, as well as the gig at LA's KIA Forum three weeks later.
All proceeds will go towards charities Musicares and Music Support, two organisations which help musicians in times of crises.
Equipment on sale includes a collection of guitars, drum skins and cymbals, all of which have also been signed by performers from the two gigs, including Foo Fighters frontman Dave Grohl and Nirvana bassist Krist Novoselic.
Other items also include a one of a kind 2022 Ram Rebel Crew Cab pick up truck, which was custom built on Hawkins' honour. It is expected to sell for $80,000 at this auction.
A set of cymbals signed by Stewart Copeland, Joan Jett, and Kesha, along with a guitar which was owned by Queen's Brian May will also go under the hammer.
@JuliensAuctions presents"ICONS & IDOLS: ROCK 'N' ROLL" AUCTION, November, 11, 12, & 13th @HardRock NY.

Bid on A custom-built one off 2022 #Ram Rebel Crew Cab pickup honoring the late #TaylorHawkins of #FooFighters.

Proceeds to @MusiCares https://t.co/OZWy0MfKon pic.twitter.com/Ou2VC6Cf2A

— Julien's Auctions (@JuliensAuctions) November 3, 2022
"unforgettable tribute concerts"
Describing the Hawkins tribute gigs as "unforgettable", Julien's Auctions also released this statement.
"Julien's Auctions is honoured to offer these incredible pieces signed by the artists from the Foo Fighters and Hawkins Family's unforgettable tribute concerts that celebrated the extraordinary creative force and light of the legendary music icon, Taylor Hawkins", their executive director Martin Nolan said.
This auction will take place at New York's Hard Rock Cafe, from November 11-13.
Taylor Hawkins passed away back in March aged 50. He served as drummer for Foo Fighters, alongside Dave Grohl, Pat Smear, Rami Jafee and Chris Shiflett. He had previously toured with Alanis Morrissette.
Back in October, it was confirmed that one of the late drummer's last ever interviews would feature on a brand new docufilm Let There Be Drums.
The film was to explore "the art of drumming [and] the musicians who've mastered it". More on this story from Nova here.