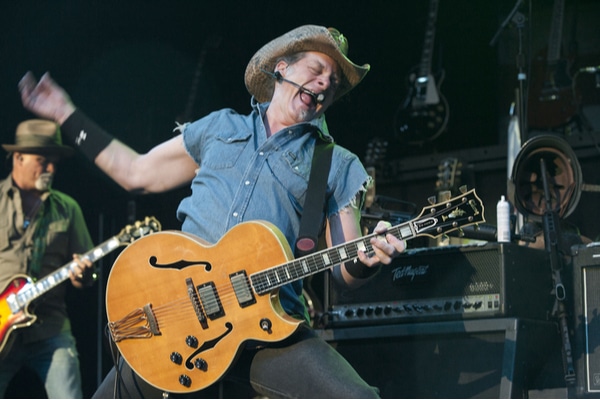 It has been vastly reported that veteran rocker and coronavirus denier, Ted Nugent performed in Florida while infected with COVID-19. According to the guitarist's own timescale of events, Nugent was likely experiencing his third day of symptoms at the event.
The singer attended, spoke, and performed without a mask at Florida's Oakes Farms Seed to Table Market in North Naples on April 12th. However, by April 19th, Ted had announced in a Facebook video that he had been experiencing "flu symptoms for the last 10 days".
In the video, Ted said, "everybody told me I should not announce this. I have had flu symptoms for the last 10 days. I just, I thought I was dying — just a clusterf***. … I was tested positive today; I got the Chin*** s****." Nugent's own narrative puts the rocker at the event in Naples just three days into his symptomatic illness.
As reported by Naples Daily News (via Metal Injection), Ted and his wife Shemane attended the live event in Naples, Florida on April 12th. Just seven days later, the guitarist announced to his followers on Facebook that he had tested positive for coronavirus.
At the event, Ted played some of his hit songs and spoke about politics, broadcast via livestream. As seen in the A video archived on the musician's Facebook page shows both Ted and his wife not wearing any face coverings at all.
For over an hour, Ted and his wife entertained the crowd from a balcony overlooking the store's main floor. It is currently unclear whether any patrons or employees came within six feet of Nugent for a total of 15 minutes.
"First, God bless America," Ted said at the event. "Let me tell you, first of all, Southwest Florida, one of the safest places to live in the entire state with the lowest crime rate. Why is that? Because all law enforcement and the greatest citizens of this county stick together and we put bad people in jail. And that's where they belong."
Ted and his wife, who own a condo in Naples, are friends with Alfie Oakes, the owner of Seed to Table. Oakes' views seem to align with those that Ted has previously espoused, with the store owner previously calling the pandemic a hoax.
Oakes told NBC reporters he knows masks do not work and does not believe COVID-19 has killed hundreds of thousands of people in the US. Oakes believes it to be "total hogwash" and questioned why the world is not "shut down" because of "heart attacks".
Ted used similar lingo his Facebook Live, saying it was BS that 500,000 Americans have died from COVID. The veteran rocker also questioned why the world did not shut down for "COVIDs one through 18". Whereas the name 'COVID-19' comes from CO = corona, VI = virus, and D = disease, with 19 being the year it was discovered. There is no COVID one through 18.