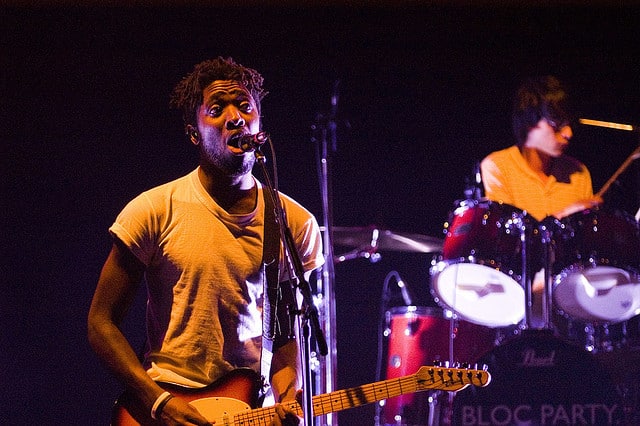 Bloc Party's frontman Kele Okereke, has dismissed any rumours of the band returning to mark an anniversary of their debut album.
Okereke said he hd no plans to mark the occasion, describing anniversary tours as 'cringy' and 'cynical'.
Silent Alarm is approaching ten years since its release. It was recorded in London in mid-2004 and released in February 2005 on Wichita Recordings. The record peaked at number three on the Irish Albums Chart.
It was a blistering debut LP, mashing indie rock with a post-punk revival sound. Combined with Okereke's lyrics concerning the feelings and hopes of young adults, as well as the political turmoil of the time.
Unfortunately, Okereke doesn't appear to be that sentimental. Speaking with Music Feeds the singer dismissed any notion of a ten year celebration.
Okereke said, "I think the most impressive thing that we could do as a band would be to respond [by] looking forward and keep on making music to say that we're still motivated."
"I think that's more important than revival or some kind of nostalgic experience. I feel that the band isn't some record – at this point it's a collection of records – and I feel that the best way to honour that would be to make more records, not just to look back to where we were," Okereke said.
He continued: "I don't think that sort of thing does much good for artists. I always cringe a little bit when you hear about bands going around just touring on a kind of anniversary record. I feel that it just seems a little bit cynical."
Okereke, meanwhile, is set to release his second solo album Trick on October 13th, through the singer's own Lilac Records. Trick is the follow up to his 2010 debut The Boxer.
Trick track list:
First Impressions
Coasting
Doubt
Closer
Like We Used To
Humour Me
Year Zero
My Hotel Room
Silver and Gold
Stay the Night