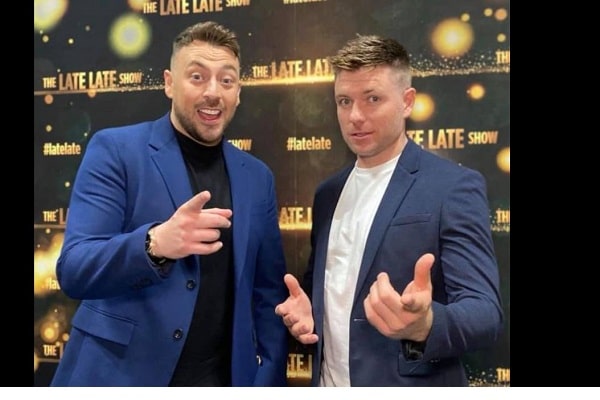 The 2 Johnnies have apologised over offensive content that was posted on their social media accounts this week.
The comedy duo had posted this video online which included several crude references. It also featured several crude quotes from a series of vulgar car stickers. These quotes were sent to them by listeners of their podcast.
This video was subsequently deleted from their social media account.
"should never have been published"
The 2 Johnnies who are known as John O'Brien and John McMahon released this statement, apologising for any offence caused.
"We would like to apologise for the content which appeared on our social media, these posts were offensive and should never have been published", they said.
"This is not who we are nor what we stand for. We aim to do better in the future, we are not perfect and we are learning all the time". 
— The 2 Johnnies (@the2johnnies) February 24, 2022
Speaking yesterday, RTÉ also released a statement confirming that the duo's radio show would not air today. They also said that the matter is under review.
"RTÉ believes in dignity and respect and does not tolerate material or attitudes of this nature", RTÉ said yesterday.
"The 2 Johnnies will not be on air today while we review the matter". 
"deeply derogatory"
This video posted by the 2 Johnnies was also criticised by Fine Gael TD Ciarán Cannon.
"The use of language that is deeply derogatory and demeaning of women cannot be tolerated by our national broadcaster", he said.
"Our licence fee cannot be used to fund an undermining of our ambition to make Ireland a more equal and safer place for women". 
He also added, "Negative attitudes towards women are wired into our brains early in life and a station that targets young people should be aware of this and act accordingly. The '2 Johnnies' have a huge following across the country, with a particularly significant influence on young men".
"Their comments directed at women were demeaning and lacking in basic respect. They objectified women's bodies, with absolutely no regard as to their personhood". 
This comes after podcaster Joe Rogan was also hitting the recent headlines. Several artists like Neil Young and Joni Mitchell asked for their material to be removed from Spotify. They were opposed to anti vaccine views shared on Joe Rogan's Spotify podcast.
More on this here.