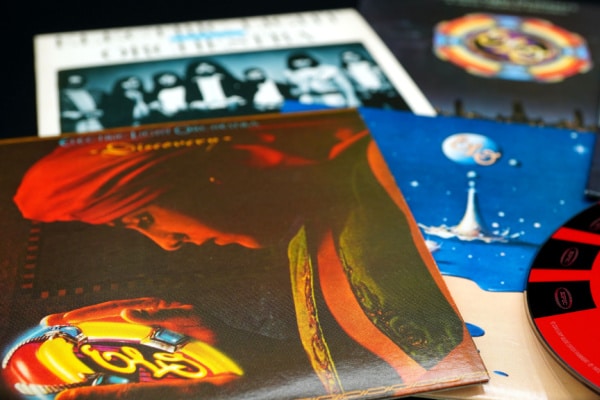 Throughout this month on Nova, we will be bringing you The 50 Albums That Changed your Life. Each album gets airplay, today it's the turn of 'Discovery' from ELO, ZZ Top's 'Eliminator', and Fleetwood Mac's 'Rumours'.
ELO aka Electirc Light Orchestra who were co-founded by Jeff Lynne via Jet Records, released Discovery, their eight studio album, and it went on to top the charts in the US.
'Discovery' was released in 1979, an epoch which saw the rise of the 'Disco Sucks' Movement. This led to the major burning of disco records at Comiskey Park on 12 June that year.
While it carried sinister racist and homophobic elements, many rock music fans hated the disco music at the time. More information can be found here.
Electirc Light Orchestra were already a major force in the music world at this stage. The album itself featured tracks such as 'The Last Train To London', "Don't Bring Me Down' and 'Shine A Little Love'.
The band were already renowned for their studio wizardy and syntheseisers to hone their sound.
ZZ Top 'Eliminator'
Coming up at 1pm, ZZ Top's highly acclaimed 'Eliminator' will feature as an album that changed your life here at Nova.
ZZ Top were already a major force in the rock music world by the time this album arrived in 1983.
The album reached number 2 in the Candaian and Austrailian charts. It also hit number 3 in the UK charts.
'Eliminator' also coincided with the rise of MTV. The album also features several iconic hits associated with the band. Such tracks include 'Legs', 'Gimme All Your Lovin' and 'Sharp Dressed Man'. 
The songs helped to spread ZZ Tops praise of cool cars, glamourous women and big beards.
30 years on, the album is still very much the go to record on Classic Rock Radio, as ZZ Top continue to sell out stadiums and release new material. They are an undeniable legend of the world of rock music.
Earlier this year, they released a live album 'Raw'. This was their first album since the passing of their bassist Dusty Hill.
Fleetwood Mac Album – 'Rumours' 
Coming at 4pm here on Nova, Fleetwood Mac's much loved album 'Rumours' is to feature as an album that changed your lives.
As an album, it carries through the motif of the difficulty in maintaining a relationship, right through the album.
It would appear to make sense considering the obvious tension that existed between band members, with John and Christin McVie divorced, Stevie Nicks and Lindsey Buckingham embroiled in an on/off again relationship.
To top it all off, drummer Mick Fleetwood was also coming to terms with his own wife's infidelity.
The melancholic sound of strained relationships can be heard all through 'Rumours'.The album features tracks like 'Dreams', 'Chain' and 'Don't Stop'.
Buckingham and Nicks' introduction to the band brought a country sound to the band, as opposed to their early blues material.
Recording of this record was also delayed on several occasions due to improptu parties in the studio, along with reports of heavy cocaine use within the band. 
Despite this, 'Rumours' reached top spot in the US, and remained top of the Billboard Charts for 31 weeks. It also reached top spot in the UK following its release a year later.
'Rumours' sold 40 million copies in the UK, and is the nation's 11th best selling record.