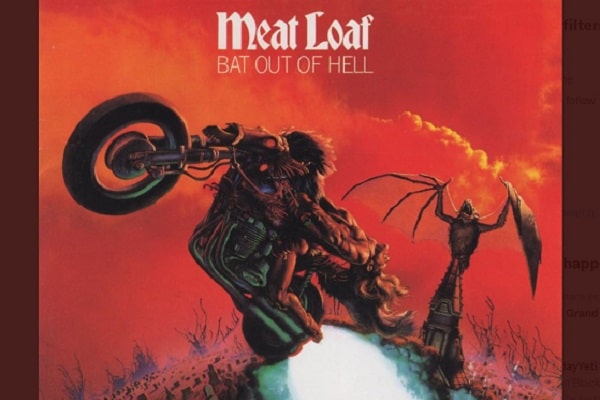 On the latest edition of The 50 Albums That Changed Your Life here on Nova sees us once again turn to Fleetwood Mac's iconic 'Rumours', while Meatloaf's 'Bat Out Of Hell' and the Eagles 'Hotel California' are included too.
'Bat Out Of Hell' – Meat Loaf
From 10am here on Nova, tune in and check out the masterpiece that is 'Bat Out Of Hell' from the late Meat Loaf.
Released in collaboration with songwriter Jim Steinman and producer Todd Rundgren, 'Bat Out Of Hell' arrived in 1977 with a bang, storming it's way to top spot in the charts, on its journey to becoming one of the best selling albums of all time, selling 43 million copies worldwide.
The album has also spent a monumental 522 weeks in the UK Album charts. It is also estimated that it is selling an impressive 200,000 copies per year.
Many of the tracks are marathons, with title track 'Bat Out Of Hell' lasting for 9 minutes. You will be able to listen to this track and others from 10am here on Nova.
Following Meatloaf's death last January, 'Bat Out Of Hell' also reached top spot in the Irish album charts.
This is an album which cements Meat Loaf as one of the biggest rock stars of all time.
'Hotel California' – The Eagles
Coming up at 1pm, the Eagles' 'Hotel California' spent 8 weeks at the top of the US Album charts, following its release in 1976, a year before Meat Loaf's 'Bat Out Of Hell'.
Selling 42 million copies, 'Hotel California' went on to sell 42 million copies, with the title track hitting top spot in the US, becoming one of the most popular tracks played on rock radio.
Along with 'Hotel California', another track from the album 'New Kid In Town' also reached number one in the charts.
These are also tracks which you can check out from 1pm here on this station.
The album which saw the Eagles line up with Don Felder, Glenn Frey, Don Henley, Randy Meisner and Joe Walsh, is one of the greatest albums ever recorded.
'Rumours' – Fleetwood Mac
Once again, Fleetwood Mac's album 'Rumours' will get airplay from 4pm.
As mentioned, the album explores the theme of a difficulty in maintaining relationships, with obvious tension amongst the band members at the time, from the McVies, to Lindsey Buckingham/Stevie Nicks. More on this here.
Tracks which will get airplay include 'Go Your Own Way', 'You Make Loving Fun' and 'Second Hand News'.