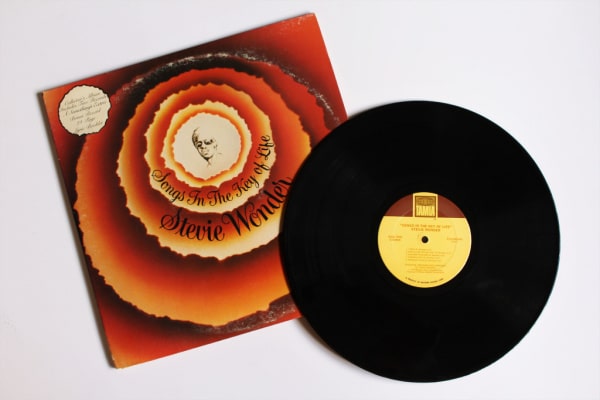 Coming up on today's edition of The 50 Albums That Changed Your Life, we will be taking a trip through the 1980s, to explore 3 albums which have certainly changed our lives, as well as the artists that made them.
Along with looking at albums from Stevie Wonder and Guns N'Roses, we will be taking a second wirl at Def Leppard's 'Hysteria'.
'Songs In The Key Of Life' – Stevie Wonder 
'Songs In The Key Of Life' arrived at a time when Stevie Wonder was at the peak of his powers, and it is an album which has been widely regarded as the pinnacle of the singer's career.
Released in 1976, the album earned Wonder his third Grammy award for Album of the Year. He also won 3 other Grammy Awards and 3 further nominations.
'Songs In The Key Of Life' covers a wide range of topics, some of which are quite personal, including recollections of the singer's childhood such as, 'I Wish'.
While 'Isn't She Lovely' is inspired by the birth of his daughter Aisha Morris with his first partner Yolanda Simmons.
It is an album which also reached number on in the Billboard Charts at the time.
Featuring 130 collaborators, 'Songs In The Key of Life' was also one of the best selling albums of 1977, along with Fleetwood Mac's 'Rumours' album, which we have mentioned here on Nova this week.
Tune in from 10am to find out why here on Nova.
'Appetite For Destruction' – Guns N'Roses 
This album certainly does not require an in-depth introduction.
Arriving in 1987, 'Appetite For Destruction' has been credited with leading Guns N'Roses to superstardom, particularly thanks to releases of the ilke of 'Welcome To The Jungle', and 'Sweet Child O'Mine'.
Thanks to these tracks and many others, 'Appetite For Destruction' became the best selling album in the US in 1988, selling 18 million copies there, and 30 million worldwide.
Becoming a number one hit, 'Sweet Child O'Mine' was also written by Guns N'Roses lead singer Axl Rose for his girlfriend at the time Erin Everly. The couple tied the knot in 1990, before divorcing a year later.
Incidentally thanks to its use in the Thor: Love And Thunder movie trailer, 'Sweet Child O'Mine' also re-entered the Billboard Hot Hard Rock Songs. 
The album also includes 'Paradise City' and other major tracks, which you can check out from 1pm here on Nova! 
'Hysteria'– Def Leppard
From 4pm, we will giving Def Leppard's album 'Hysteria' the airplay it deserves, with more classic tracks to tune into, including 'Love Bites', 'Animal', and 'Pour Some Sugar One Me'. 
'Pour Some Sugar On Me' was a major reason why this album reached the top of the Billboard Chart, while 'Love Bites' and 'Animals' also featured in the top ten singles charts.
Tune in from 4pm here on Nova to find out why!