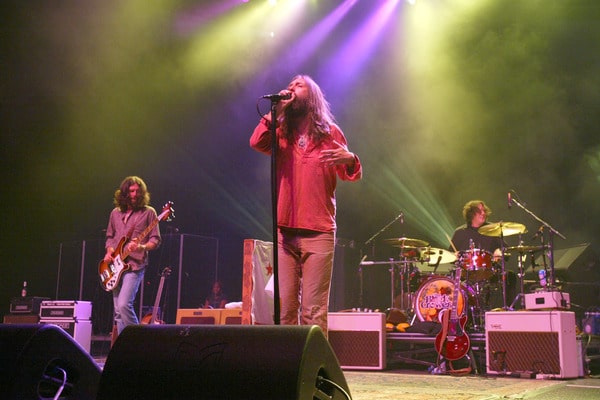 A trailer has emerged for a new film celebrating the reunion of rockers The Black Crowes.
To mark their 30th anniversary, the band – lead vocalist and instrumentalist Chris Robinson, his guitarist brother Rich Robinson, and bassist Sven Pipien – reunited last year for a comeback tour.
Though the tour was ultimately halted by the pandemic, the Robinson brothers did manage to get a performance under their belts at a sold-out San Francisco concert just a week before the world closed its doors on live music. It marked their first live performance together in almost eight years.
The performance was filmed and will feature in Brothers of a Feature, an upcoming movie documenting The Black Crowes' reunion. The movie will also highlight the band at their peak with archival footage of three concert and studio performances.
The official synopsis for the film reads:
"Never seen in full, Brothers Of A Feather captures Black Crowes founders Chris and Rich Robinson performing as a duo at an intimate, sold-out concert from San Francisco on March 6, 2020 — about a week before the pandemic shutdown. Free of the full band treatment, the stripped-down arrangements give the music's lyrics and structures a fresh perspective."
Formed in Marietta, Georgia in 1984 under the original name of Mr Crowe's Garden, The Black Crowes saw the Robinson brothers mine their love of 1970s blues rock while still at high school. With a revolving door of musicians over the years, the Robinsons have always been the backbone of the band.
1990 saw the release of The Black Crowes' acclaimed debut album Shake Your Money Maker. The album sold over five million couples and spawned two Billboard Top 30 singles in Otis Redding cover Hard to Handle and acoustic ballad She Talks to Angels.
A second album followed in 1992 with The Southern Harmony and Musical Companion, which debuted at the number one spot on the Billboard 200. 1994's Amorica drew controversy due to its album cover image of a woman's thong with pubic hair protruding. Three Snakes and One Charm followed in 1996, with four more albums over the next decade, culminating with 2009's Before the Frost…Until the Freeze.
In 2015 The Black Crowes announced their breakup due to a disagreement between the Robinson brothers regarding ownership of the band.
The scuppered reunion tour is set to recommence later this year. Meanwhile you can watch the trailer for Brothers of a Feather below.