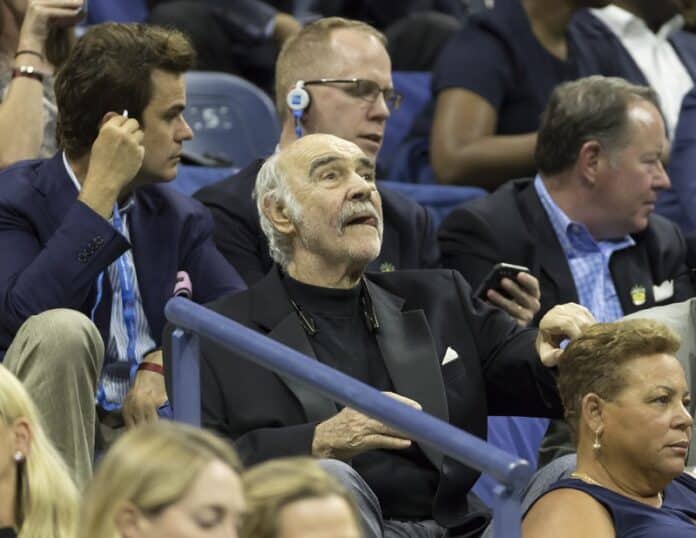 The cause of Sir Sean Connery's death has been revealed as TMZ have obtained details of the actor's death certificate.
Sean Connery died at the age of 90 on October 31 this year at his home in the Bahamas. Connery died of pneumonia, heart problems and old age according to his death certificate.
The certificate also listed atrial fibrillation as a cause of death. This condition can lead to blood clots, strokes and heart failure.
Connery's wife of 45 years, Michelle Roquebrune discussed the actor's final moments in an interview with The Daily Mail.
Roquebrune said "It was no life for him. He was not able to express himself latterly. At least he died in his sleep and it was just so peaceful. I was with him all the time and he just slipped away. It was what he wanted".
She also revealed that he had a battle with dementia. "He had dementia and it took its toll on him. He got his final wish to slip away without any fuss".
Despite his condition, Roquebrune is glad that Connery died peacefully. "He was gorgeous and we had a wonderful life together. He was a model of a man. It is going to be very hard without him, I know that. But it could not last for ever and he went peacefully".
Connery made his name when he portrayed the role of James Bond. Connery won an Oscar as best supporting actor in the 1987 film ' The Untouchables'. He also starred in the cult Irish film, 'Darby O Gill and The Little People.
When Connery passed away, tributes from all over the entertainment industry flooded in. Former James Bond actor, Pierce Brosnan said "Sir Sean Connery, you were my greatest James Bond as a boy, and as a man who became James Bond himself. You cast a long shadow of cinematic splendor that will live on forever. You led the way for us all who followed in your iconic foot steps."
"Each man in his turn looked to you with reverence and admiration as we forged ahead with our own interpretations of the role. You were mighty in every way, as an actor and as a man, and will remain so till the end of time. You were loved by the world, and will be missed. God bless, rest now, be at peace".
To read more about the tributes for Connery, check out Radio Nova's report on it here.