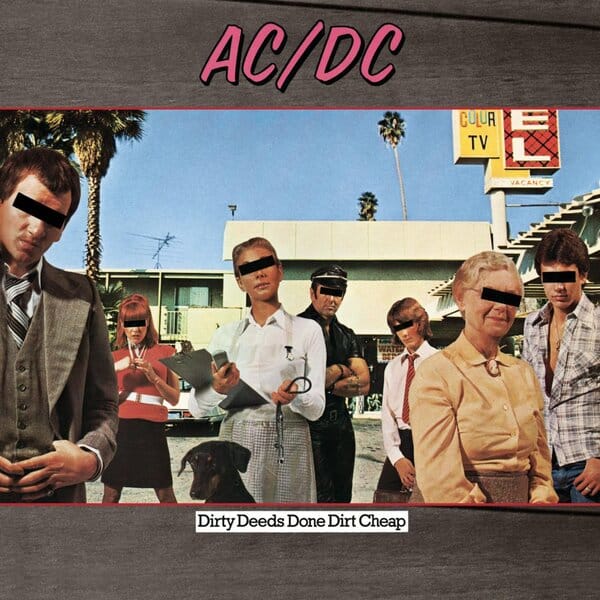 Tonight (September 28th) on the world famous Classic Album At Midnight on Radio Nova we're playing AC/DC's Dirty Deeds (Done Dirt Cheap).
The album is presented in full with no commercials or interruptions.
Formed in Sydney in 1973 by brothers Malcolm and Angus Young, AC/DC went through several lineup changes before recording their 1975 debut album High Voltage. A followup, TNT, arrived in December of that year, establishing the band as one of the most popular acts in their native Australia. Neither album had been released outside Australia and New Zealand.
The rest of the world got their first taste of AC/DC in 1976 when an album under the title of High Voltage was released. This release combined tracks from AC/DC's first two albums. It failed to make much commercial impact but an international audience for AC/DC's distinctive mix of hard rock, heavy metal and blues began to form.
AC/DC didn't have to wait long for global success, which arrived later that year with the release of Dirty Deeds (Done Dirt Cheap), their first wholly original album to receive a worldwide release.
Taking its titles from Beany and Cecil, a cartoon Angus Young enjoyed as a child, Dirty Deeds is filled with lyrics designed to upset parents and teachers. The title track features a narrator who offers to perform a variety of immoral deeds for anyone who requires his services. The lyrics include a phone number that led to a lawsuit when an American couple whose phone number corresponded to the fictional one mentioned in the song were dogged by calls from AC/DC fans. Songs like Problem Child, Squealer and Big Balls see the band revelling in immaturity, as symbolised by Angus Young's iconic schoolboy outfit. The contemplative, bluesy Ride On is an exception, as it tells of a narrator reflecting on the mistakes he made while drunk.
At the time of recording Dirty Deeds, AC/DC's line-up consisted of lead vocalist Bon Scott, lead guitarist Angus Young, rhythm guitarist Malcolm Young, bassist Mark Evans and drummer Phil Rudd. Scott and the Young brothers were all the sons of Scottish emigrants to Australia.
In its original release, the international version of Dirty Deeds features nine tracks. On Side A are Dirty Deeds Done Dirt Cheap; Love at First Feel; Big Balls; Rocker; and Problem Child. Side B gives us There's Gonna Be Some Rockin'; Ain't No Fun (Waiting 'Round to Be a Millionaire); Ride On; and Squealer. The Australian release featured an alternate track listing with two songs – RIP (Rock in Peace) and Jailbreak – not appearing on the international version.
The Australian album was released on September 20th, 1976 with the modified international album released on December 17th of that year. In Australia the album went to number five on the album chart and established AC/DC as a favourite group among rockers around the world.
Dirty Deeds would have to wait until 1981 to find success in the lucrative market of the US however. By then the band were huge in America and fans won over by 1979's Highway to Hell began snapping up Australian imports of Dirty Deeds. Such was the demand that Atlantic Records finally gave Dirty Deeds an official US release in 1981. So popular was Dirty Deeds that it actually outsold the band's 1981 release For Those About To Rock We Salute You, peaking at number three on the Billboard album chart.
Featuring several songs that have become staples of AC/DC's raucous live sets, Dirty Deeds is considered one of the Aussie rockers' finest albums. You can rock out to it at midnight tonight on Radio Nova.