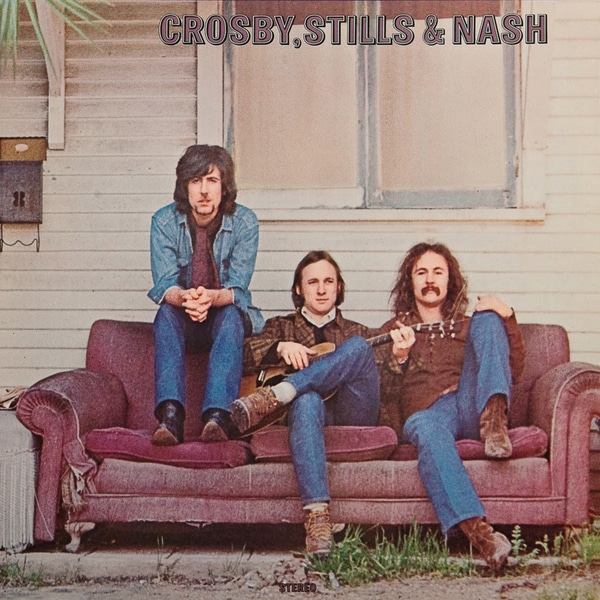 Tonight (December 7th) on the world famous Classic Album at Midnight on Radio Nova we're playing Crosby, Stills & Nash's self-titled debut.
The album is presented in full with no commercials or interruptions.
One of the all-time great supergroups, Crosby, Stills & Nash were formed by the coming together of The Byrds' David Crosby, Buffalo Springfield's Stephen Stills and The Hollies' Graham Nash.
After being kicked out of The Byrds due to internal conflicts, Crosby began jamming with Stills, who was himself without a band following the breakup of Buffalo Springfield in early 1968. In December of that year Nash quit the Hollies and left the UK for Los Angeles. There he hooked up with Crosby and Stills, with whom he had socialised in the past.
Thus, Crosby, Stills & Nash was formed, and after some complex contract wrangling they were signed to Atlantic Records.
By the late '60s, North American rock music had begun to move away from a traditional rock n' roll sound, as bands like The Byrds, Jefferson Airplane and The Band began to explore a more acoustic folky sound. This was the path Crosby, Stills & Nash chose to follow for their debut.
With the exception of Wooden Ships, which Crosby and Nash had composed together prior to Nash's arrival, all the tracks on the album are penned solely by individual members, each of whom played guitar on their own songs. Along with guitar, the talented instrumentalist Stills also played bass, keyboards and percussion on the record, and would take a dominant role in the studio.
Lyrically, Crosby's tracks explore social issues, Stills have a more rootsy country-folk feel, while Nash's songs are the most radio-friendly.
In its original release, Crosby, Stills & Nash features 10 tracks. On Side A are Suite: Judy Blue Eyes; Marrakesh Express; Guinnevere; You Don't Have to Cry; and Pre-Road Downs. On Side B are Wooden Ships; Lady of the Island; Helplessly Hoping; Long Time Gone; and 49 Bye-Byes.
Crosby, Stills & Nash was released on May 29th, 1969. It reached number six on the US Billboard chart and number 25 in the UK. Released as singles, Suite: Judy Blue Eyes and Marrakesh Express became Top 40 hits in the US.
The band's profile was boosted by an appearance at the legendary Woodstock festival in August 1969. Later that year they reached a new audience with an appearance on the British TV variety show This is Tom Jones, where they performed with Neil Young, who would soon become the fourth member of the group.
Critics were mostly impressed with the trio's debut. Rolling Stone called the record "eminently playable," and currently rank it at number 262 on their list of the 500 greatest albums of all time.
Crosby, Stills & Nash would pave the way for a distinctive sound coming out of California based groups like The Eagles and Fleetwood Mac, and singer-songwriters like Joni Mitchell and Jackson Browne.
You can hear the birth of a supergroup at midnight tonight on Radio Nova.