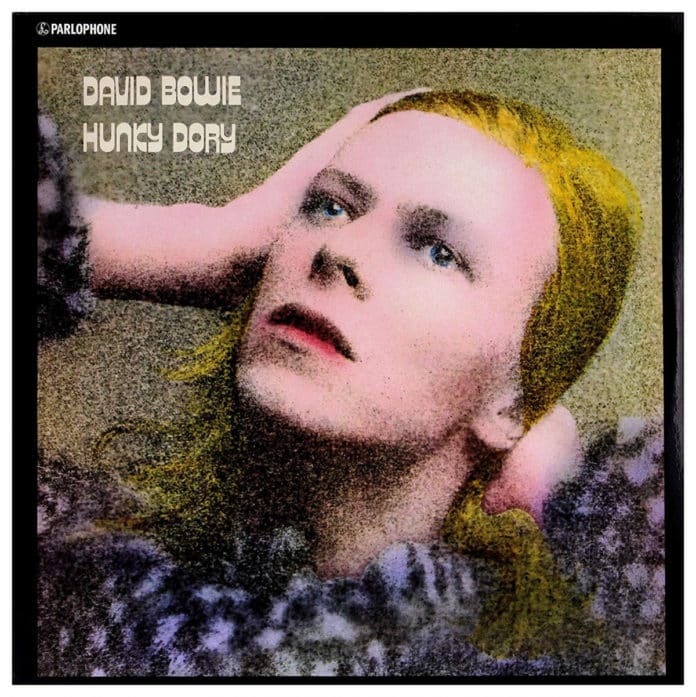 Tonight (October 19th) on the world famous Classic Album at Midnight on Radio Nova we're playing David Bowie's Hunky Dory.
The album is presented in full with no commercials or interruptions.
Following the release of his third album, 1970's The Man Who Sold the World, David Bowie decided to move away from that record's hard rock sound and concentrate on more melodic, piano-led tunes.
In early 1971 Bowie returned to London following a promotional tour of the US and began writing songs in his apartment in Beckenham. During this period of inspiration, Bowie would write the songs for Hunky Dory and its followup, The Rise and Fall of Ziggy Stardust and the Spiders from Mars, with plenty of material left over.
Entering the studio in May 1971, Bowie reunited with guitarist Mick Ronson and drummer Mick Woodmansey, with whom he had fallen out following the recording of The Man Who Sold the World. Producer and bassist Tony Visconti wasn't so willing to return, and so bassist Trevor Bolder was recruited. Bowie's new backing trio would soon become known as The Spiders from Mars.
Bowie hired Ken Scott to co-produce the album with himself. Rick Wakeman, then an in-demand session musician, was recruited to play piano on the album.
Where Bowie's previous albums had been guitar led, the piano takes centre stage on Hunky Dory. This shift is reflected in the album's opener, Changes, in which Bowie talks about his artistic reinvention.
Life on Mars? was inspired by Frank Sinatra and references the then current space race being fought between the US and Soviet Union.
On three songs, Bowie pays tribute to three of his musical heroes. Andy Warhol and Song for Bob Dylan are self-explanatory, while Queen Bitch is inspired by The Velvet Underground and Lou Reed. Unlike the rest of the piano heavy album, it's a guitar led track that some have described as anticipating punk rock.
In its original form, Hunky Dory features 11 tracks. On Side A are Changes; Oh! You Pretty Things; Eight Line Poem; Life on Mars?; Kooks; and Quicksand. On Side B are Fill Your Heart; Andy Warhol; Song for Bob Dylan; Queen Bitch; and The Bewlay Brothers.
Hunky Dory was released on December 17th, 1971. It was initially a flop, selling less than 5,000 copies in its first four months in the UK. By the summer, spurred by the popularity of Ziggy Stardust, Hunky Dory had finally become a hit, peaking at number three on the UK albums chart. A 1981 reissue would spend 51 weeks on the UK chart. Changes and Life on Mars? were released as singles, with the latter reaching number three in the UK and number 12 in the US.
Critics were won over by Bowie's new musical direction. Melody Maker described Hunky Dory as "the most inventive piece of song-writing to have appeared on record in a considerable time," while NME called it "a breath of fresh air compared to the usual mainstream rock LP." The New York Times called Bowie "the most intellectually brilliant man yet to choose the long-playing album as his medium of expression."
In 2013, readers of Rolling Stone voted Hunky Dory as Bowie's second best album behind Ziggy Stardust, with the same publication ranking it at number 88 on their most recent list of the 500 greatest albums of all time. A 2013 NME list ranked it just behind The Beatles' Revolver and The Smiths' The Queen is Dead as the third greatest album of all time.
You can enjoy the melodic, piano led delights of Hunky Dory at midnight tonight on Radio Nova.