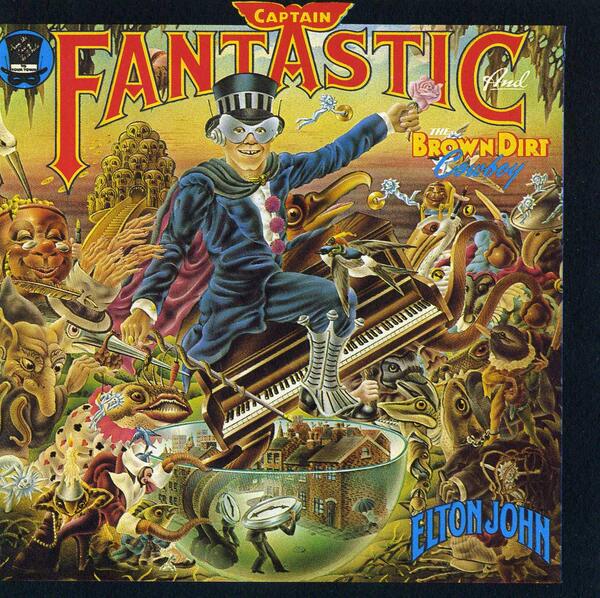 Tonight (November 30th) on the world famous Classic Album At Midnight on Radio Nova we're playing Elton John's Captain Fantastic and the Brown Dirt Cowboy.
The album is presented in full with no commercials or interruptions.
By 1975 Elton John was so popular that his ninth album, Captain Fantastic and the Brown Dirt Cowboy, was certified gold before it was even released, thanks to the demand for pre-orders. The singer was such a goldmine for his record label MCA that when he signed an €8 million contract in 1974, the label took out a $25 million life insurance policy on Elton.
For Captain Fantastic…, Elton Jon and lyricist Bernie Taupin decided on a concept album that would detail the struggles faced by the duo in the early days of their careers. The album posits Elton as Captain Fantastic and Bernie as The Brown Dirt Cowboy and shares autobiographical stories of the ups and downs of their lives in late 1960s London.
The music was composed by Elton while he was taking a journey by ship from New York to the UK. Due to its autobiographical concept, the album was written in chronological order.
Elton and Bernie spent a month at Colorado's Caribou Ranch Studios in August 1974, devoting considerably more time to recording than they had on previous albums, some of which they had recorded in a matter of days.
Producer Gus Dudgeon believed it was time well spent, saying "there's not one song on [the album] that's less than incredible."
Captain Fantastic marked the last time Elton was backed by the original members of The Elton John Band – guitarist Davey Johnstone, bassist Dee Murray, and drummer Nigel Olsson – until 1983's Too Low for Zero.
In its original release, Captain Fantastic… features 10 tracks. On Side A are Captain Fantastic and the Brown Dirt Cowboy; Tower of Babel; Bitter Fingers; Tell Me When the Whistle Blows; and Someone Saved My Life Tonight. On Side B are (Gotta Get A) Meal Ticket; Better Off Dead; Writing; We All Fall in Love Sometimes; and Curtains.
Captain Fantastic… was released on May 19th 1975. It immediately made history by becoming the first ever album to debut at number one on the US Billboard album chart. Selling 1.4 million copies in just its first four days of release, it stayed atop the US chart for seven weeks. In the UK it peaked at number two.
Someone Saved My Life Tonight was released as a single, reaching number four in the US. The song tells the intimate story of Elton's doomed engagement to Linda Woodrow, his suicide attempt and his heeding of the advice of Long John Baldry to leave Woodrow and focus on his career.
Critics were won over by Captain Fantastic…, hailing it as a worthy progression of Elton's musical journey. Calling it one of his best albums in their 1975 review, Rolling Stone rank Captain Fantastic… at number 158 on their list of the 500 greatest albums of all time.
Elton himself has called Captain Fantastic… "probably my finest album."
That's good enough for us. You can hear Captain Fantastic and the Brown Dirt Cowboy in full at midnight tonight.