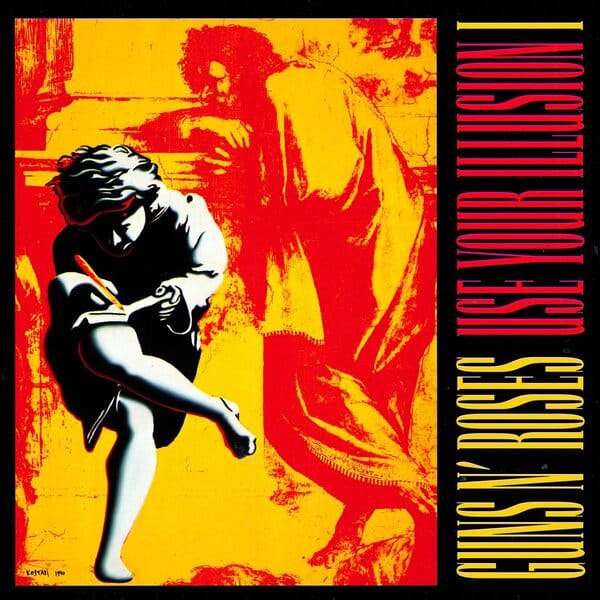 Tonight (February 6th) on the world famous Classic Album at Midnight on Radio Nova we're playing Guns N' Roses' Use Your Illusion I.
The album is presented in full on vinyl with no commercials or interruptions, courtesy of The Record Hub.
Formed in Los Angeles in 1985, Guns N' Roses came flying out of the traps with their 1987 debut album Appetite for Destruction topping the US Billboard chart and spawning three hit singles including the US number one Sweet Child o' Mine. Their 1988 followup GNR Lies didn't quite repeat the success of its predecessor but was a massive hit nonetheless.
After taking time out to deal with drug addiction issues, Guns N' Roses returned to work in 1990. Unable to kick his heroin use, drummer Steven Adler was replaced by Matt Sorum, formerly of The Cult.
For their eagerly awaited third album, the band wanted to explore new musical directions away from the meat and potatoes hard rock of their first two albums. Combining pre-existing songs from the band's early days with a raft of new material, it was ultimately decided that two double albums would be released simultaneously.
The main difference in Guns N' Roses' sound from previous albums comes from the heavy use of piano, the instrument shared between frontman Axl Rose and keyboardist Dizzy Reed. The roots of rock are paid tribute to with tracks influenced by blues and early rock n' roll, and even classical music proves an influence, particularly on the nine minute epic November Rain. Another departure sees guitarist Izzy Stradlin take lead vocals on three of Use Your Illusion I's tracks.
Lyrically, the album explores such themes as failed relationships, drug addiction and fanatical groupies, along with a cover of Wings' Live and Let Die.
Use Your Illusion I features 16 tracks. On Side One are Right Next Door to Hell; Dust N' Bones; Live and Let Die; Don't Cry; and Perfect Crime. On Side Two are You Ain't the First; Bad Obsession; Back off Bitch; and Double Talkin' Jive. On Side Three are November Rain; The Garden; Garden of Eden; and Don't Damn Me. On Side Four are Bad Apples; Dead Horse; and Coma.
Both Use Your Illusion albums were released on September 17th, 1991, with many record stores opening at midnight to meet the demand. It's said that over half a million copies of Use Your Illusion I were sold in the first two hours. It would go on to sell over 5.5 million copies in the US alone. In both the US and UK, Use Your Illusion I reached number two on the album charts, unable to knock Use Your Illusion II from the top spot.
Propelled by a memorable music video, November Rain was a Top Five hit in Ireland, the UK and US. Live and Let Die reached number five in Ireland and the UK, while Don't Cry topped the singles chart in Ireland. The album was nominated for a Grammy in 1992.
You can rock out to all 76 minutes of Use Your Illusion I at midnight tonight on Radio Nova.