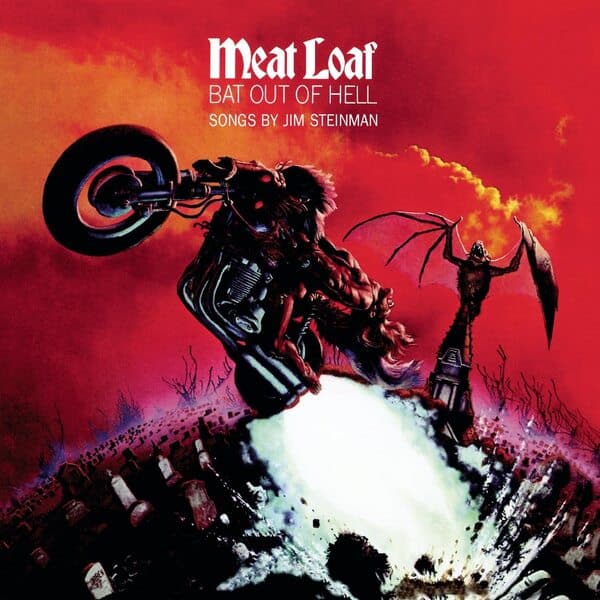 Tonight (September 22nd) on the world famous Classic Album at Midnight on Radio Nova we're playing Meat Loaf's Bat Out of Hell.
The album is presented in full with no commercials or interruptions.
Michael Lee Aday aka Meat Loaf's career was already a decade old by the time he released his solo debut album, Bat Out of Hell in 1977. In the late 1960s, Aday had formed a band named Meat Loaf Soul, which played gigs in the Los Angeles area. After the band underwent numerous name changes, Aday was cast in the Los Angeles production of hippy musical Hair.
This led to Aday, now adopting his stage name Meat Loaf, recording an album with his Hair co-star Shaun 'Stoney Murphy', 1971's Stoney and Meatloaf. Meat Loaf was unhappy with how Motown records had tampered with his vocals on the album, and so he returned to touring with Hair. It was while starring in a production of More Than You Deserve that Meat Loaf met composer Jim Steinman.
As early as 1972 Meat Loaf and Steinman began work on what would become Bat Out of Hell. It originally began life as Neverland, a musical based on Peter Pan. Meat Loaf and Steinman took three songs from Neverland – Bat Out of Hell, Heaven Can Wait and The Formation of the Pack, which would become All Revved Up with No Place to Go – and decided to build an album around them.
Production duties were taken by Todd Rundgren, who also played guitar on the album. With no record deal in place, Rundgren was essentially paying for the recording himself in the hopes that he could sell the finished product. Joining Rundgren were the E Street Band's  drummer and pianist Max Weiberg and Roy Bittan, saxophonist Edgar Winter, and Rundgren's band members Kasim Sulton, Roger Powell and John "Willie" Wilcox.
The album, titled Bat Out of Hell, was eventually snapped up by Cleveland International Records, despite objections from their parent company Epic Records, who hated the album.
The original issue of Bat Out of Hell features seven tracks. On Side A are Bat Out of Hell; You Took the Words Right Out of My Mouth (Hot Summer Night); Heaven Can Wait; and All Revved Up With No Place To Go. Side B features Two Out of Three Ain't Bad; Paradise by the Dashboard Light; and For Crying Out Loud.
Bar Out of Hell was released on October 21st, 1977. Due to a lack of promotion, sales were slow. Following a live appearance on The Old Grey Whistle Test, the album became a cult phenomenon in the UK. Similarly, Meat Loaf developed a following in Canada and Australia, but couldn't win over his home country. In the decades since, American rock fans have come around to Bat Out of Hell's charms, with the album selling over 14 million copies in the US. In the UK it spent 522 weeks on the album chart.
Critics were similarly slow to respond to Bat Out of Hell. Rolling Stone's review called the album "mannered and derivative." It's since been reassessed. Kerrang magazine ranked it at number 38 on their list of the 100 greatest heavy metal albums of all time. It currently stands at number 343 on Rolling Stone's list of the 500 greatest albums of all time.
The album would grown in popularity and win over a new generation in 1993 when Meat Loaf released a followup, Bat Out of Hell II: Back into Hell. That album's single, I'd Do Anything for Love (But I Won't Do That), was a monster hit, reaching number one in 28 countries.
Meat Loaf took his stage name from a cruel nickname given to him by his high school football coach, who would regularly mock his weight. It's clear who had the last laugh.
You can listen to the operatic charms of Meat Loaf's Bat Out of Hell at midnight tonight on Radio Nova.