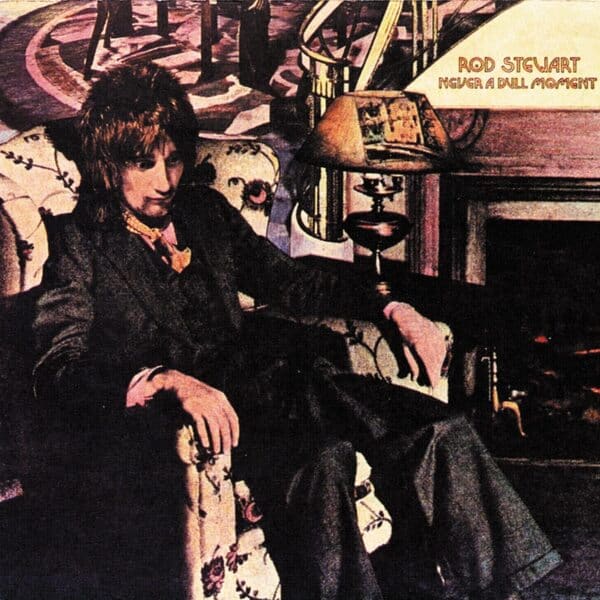 Tonight (August 30th) on the world famous Classic Album at Midnight on Radio Nova we're playing Rod Stewart's Never a Dull Moment.
The album is presented in full with no commercials or interruptions.
By the time of his fourth solo studio album, 1972's Never a Dull Moment, Rod Stewart's career was a decade old. Stewart had played with The Dimensions, Long John Baldry and the All Stars, The Jeff Beck Group and Faces.
In 1969 he embarked on a solo career while simultaneously fronting Faces. His first album as a solo artist, 1969's An Old Raincoat Won't Ever Let You Down saw Stewart establish the distinctive mix of folk, rock, blues and country that would define his sound in the coming decade.
It was Stewart's third solo album, 1971's Every Picture Tells a Story, that made him a superstar in his own right, largely due to the popularity of the smash hit single Maggie May.
The following year, anticipation was high for Stewart's fourth album, and with Never a Dull Moment, he didn't disappoint.
The presence of Stewart's Faces bandmates is felt heavily on Never a Dull Moment. You might says Faces were Stewart's session band for the album, with guitarist Ronnie Wood, bassist Ronnie Lane, keyboardist Ian McLagan and drummer Kenney Jones all performing on the record. Three songs – True Blue, Lost Paraguayos and Italian Girls – were co-written with Wood.
While the Faces members add a blues-rock element to the album, Never a Dull Moment is distinctively a Stewart solo record with a more romantic, folk-influenced sound than his work with Faces.
Also contributing to Never a Dull Moment were highly respected session drummer Micky Waller; folk-rocker Pete Sears (piano, bass guitar); jazz bassist Spike Heatley; and Lindisfarne's Ray Jackson (Mandolin).
The album's most famous track, You Wear It Well, saw Stewart collaborate once again with his Maggie May co-writer Martin Quittenton. With a similar arrangement to their previous hit, Stewart and Quittenton's reunion repeated the success of Maggie May, reaching number one on the UK singles chart.
Stewart used Never a Dull Moment to pay tribute to some of his musical influences. The album features covers of songs by Jimi Hendrix (Angel), Bob Dylan (Mama, You Been On My Mind), Sam Cooke (Twistin' the Night Away) and Etta James (I'd Rather Go Blind).
Featuring nine tracks with a total running time just over 30 minutes, Never a Dull Moment is a briskly paced rocker that lives up to its title. Its original release gives us four tracks on Side A – True Blue; Lost Paraguayos; Mama, You Been On My Mind; and Italian Girls. On Side B we get Angel; Interludings (a brief instrumental by Ronnie Wood's brother Art); You Wear It Well; I'd Rather Go Blind; and Twistin' the Night Away. Side B of the cassette release included an unlisted bonus track – a cover of Glenn Sutton's ode to Schlitz beer, What Made Milwaukee Famous (Has Made a Loser Out of Me).
Released on July 21st, 1972, Never a Dull Moment spent two weeks at number one on the UK album chart while reaching number two on the US chart.
Along with the public, critics warmly welcomed Stewart's solo effort. Writing in Words and Music, critic Mark Leviton said of Never a Dull Moment, "When Stewart strikes, the listener gets caught up and has a good time right along with him. And isn't that what rock'n'roll is all about?" Can't argue with that.
You can get caught up and have a good time with Never a Dull Moment at midnight tonight on Radio Nova.