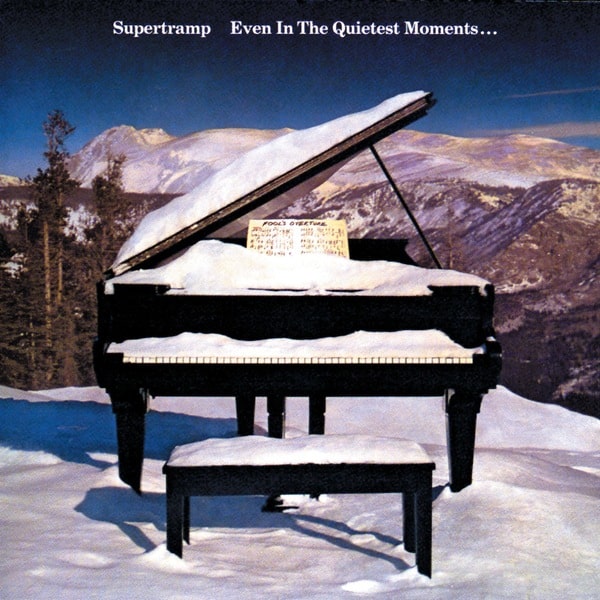 Tonight (September 15th) on the world famous Classic Album at Midnight on Radio Nova we're playing Supertramp's Even in the Quietest Moments.
The album is presented in full with no commercials or interruptions.
Bankrolled by a benevolent Dutch millionaire, Supertramp emerged from the UK's Prog Rock scene in the late 1960s. But which each new album they moved towards a more accessible, mainstream sound.
What we know as the Supertramp sound was established on their breakout 1974 album Crime of the Century, which saw the band bring keyboards front and centre. The album that followed, Crisis? What Crisis?, was considered a disappointment by fans, critics and Supertramp themselves. It was crucial that they get back on track with their next album.
While Supertramp's Prog roots are still evident on Even in the Quietest Moments, the album sees the band move further towards a pop sound. Several of its songs wouldn't have been out of place in a Broadway musical of the era, as the band embraced theatricality. With Even in the Quietest Moments, Supertramp combined the musical virtuosity of Prog Rock with crowd-pleasing songs with catchy hooks.
As with ELO, the influence of The Beatles can be heard through much of the album. The album's biggest hit, Give a Little Bit, was written back in the 1960s and reflects the "peace and love" ethos of that era. "We need to share what we can, and that's basically what the song says," Supertramp's Roger Hodgson said of the hit.
Inspired perhaps by Pink Floyd, Even in the Quietest Moments saw Supertramp experiment with sampling on Fool's Overture. The track, which the band spent five years working on, features snippets from a Winston Churchill speech, excerpts from Holst, police sirens, Big Ben's chimes and even a sample from their earlier hit Dreamer.
At the time of Even in the Quietest Moments, Supertramp consisted of Roger Hodgson (vocals, keyboards, guitar), Rick Davies (vocals, keyboards), Dougie Thomson (bass), John Helliwell (vocals, wind instruments) and Bob Siebenberg (drums, percussion).
In its original form, Even in the Quietest Moments features seven tracks, most of them running over six minutes. Side A gives us Give a Little Bit; Lover Boy; Even in the Quietest Moments; and Downstream. Side B contains Babaji; From Now On; and Fool's Overture.
Even in the Quietest Moments was released on April 10th, 1977. It peaked at number 12 on the UK albums chart and number 16 in the US. It would become the band's first Gold album in the US, selling over 500,000 copies. The single Give a Little Bit cracked the US Top 20 while several of the album tracks would become staples of rock radio airplay despite their length.
"I've always written longer songs, but then shorter ones, too," Roger Hodgson once said of Supertramp's famously lengthy tunes. "I don't think, when I'm writing a song that time ever enters into it. The song will be whatever it wants to be. I know that, when I start writing, I just have a natural feeling of where it needs to go, or how long it needs to be."
Listen to Even in the Quietest Moments at midnight tonight on Radio Nova and we think you'll find the songs are just as long as they need to be. You might even be left wanting more Supertramp.