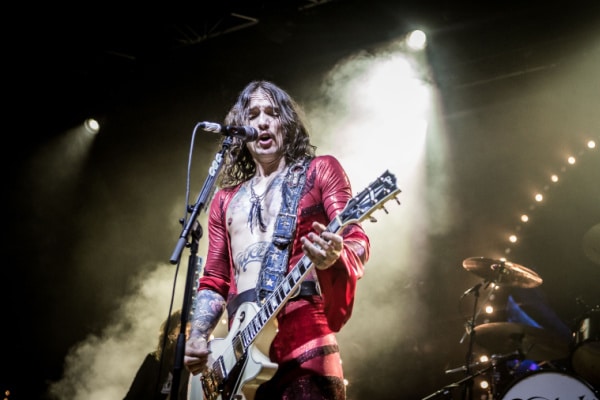 Would you like to listen to the article instead of reading it?
The Darkness have announced a brand new UK and Ireland Tour, celebrating the 20th anniversary of thair 'Permission To Land' album.
The tour which begins on December 2, will see Justin Hawkins and co take to the stage across Glasgow, London and Belfast. Other venues include Wolverampton, Norwich, Nottingham, Bristol, and Manchester.
They will perform at Dublin's Olympia on December 3.
Tickets for these shows go on sale from 9am BST here.
⚡️UK & Ireland Tour 2023⚡️
You have all been very patient. We are VERY EXCITED to announce the dates for our Permission to Land 20th Anniversary UK & Ireland Tour! We can't wait to celebrate this very important birthday with you. See you all soon!

Tickets go on sale Friday at… pic.twitter.com/OsWLYHxIsr

— The Darkness (@thedarkness) July 3, 2023
These dates in the UK and Ireland, will follow on from the Darkness' European and North American Tour. More info here.
Fresh from supporting Guns N'Roses at London's BST Hyde Park, The Darkness will mark 20 years since the release of their album 'Permission To Land', an album which included tracks such as 'Love Is Only A Feeling', 'Growing On Me', and 'I Believe In A Thing Called Love'.
'I Believe In A Thing Called Love'
Speaking of one such hit, co founders of the Darkness Dan and Justin Hawkins, have spoke about the making of 'I Believe In A Thing Called Love'.
The pair revealed that the inspiration behind this track was a dream to write "the stupidest song ever".
Upon reflection, the pair admitted that they expected to feel a huge level of embarrassment whenever it played on the airwaves.
"I expected us all to feel embarrassed playing it", Dan Hawkins said.
He continued, "I can't remember who said it but we were having a conversation along the lines of: 'Why don't we just write the stupidest song ever?'".
"It was probably Justin, my brother, who came up with the first riff: he and Frankie were sparring with that ridiculous chorus line very early on".
More on this from Nova here.