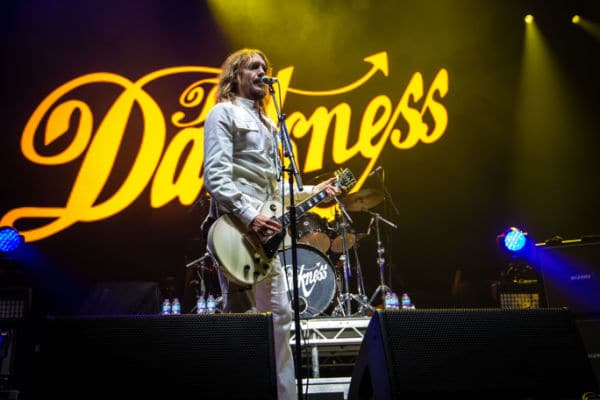 Reflecting on their hit 'I Believe In A Thing Called Love', The Darkness co founders Justin and Dan Hawkins revealed that the song came about from a shared ambition to write "the stupidest song ever". 
Released in 2002, the track featured as the lead off single from The Darkness's EP, before being re-released as the third track on the band's debut album 'Permission To Land'.
'I Believe In A Thing Called Love' peaked at number 2 in the UK Charts that year.
"embarrassed"
However, when speaking about the track's origins, the Hawkins brothers admitted that they expected to feel huge levels of embarrassment whenever the song was played.
"I expected us all to feel embarrassed playing it", Dan Hawkins said.
He continued, "I can't remember who said it but we were having a conversation along the lines of: 'Why don't we just write the stupidest song ever?'".
"It was probably Justin, my brother, who came up with the first riff: he and Frankie were sparring with that ridiculous chorus line very early on". 
You can also check out the track for yourselves below.
"cartoonish and rediculous"
Elsewhere, Dan's brother Justin explained that the Darkness have been largely inspired by things which are "cartoonish and rediculous".
"Things that are cartoonish and ridiculous – that's my raison d'être", he said.
"The ridiculous things that the Darkness do are tempered by Dan's actual good taste. For me to be turned on, it's got to have something in it that makes him go: 'You can't do that". 
"I remember when we rehearsed the song, our manager came down and just said: 'That's a hit, that is'. This was news to us", he also added.
Dan Hawkins also admitted that the track's success served as an intial problem for the band. He was worried about The Darkness becoming known as a one single wonder.
"We never considered ourselves a singles band, which was why that song was a problem for me in the first place," he explained. "For me, the Darkness was about albums and being an incredible rock band. I wasn't bothered about being popular".