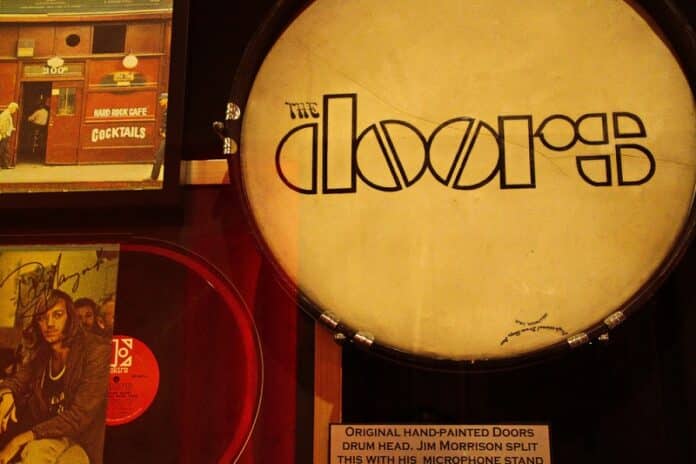 The surviving members of The Doors have shared an excerpt from their upcoming graphic novel entitled 'Morrison Hotel'.
It is being published by Z2 Comics and is a biographical adaptation from writer Leah Moore, daughter of comic book legend Alan Moore and surviving band members, guitarist Robbie Krieger and drummer John Densmore.
The new excerpts have been shared via Rolling Stone and you can check them out here.
The excerpts depict the moments before their famous concert at the Dinner Key Auditorium in Miami from March 1969.
Jim Morrison missed a flight to Miami and started drinking. Once he boarded his plane he continued to drink. During a stopover in New Orleans, he missed his flight and carried on drinking.
By the time he reached Miami for a concert The Doors were set to play, he was extremely drunk. Once on stage, he kept staggering and would stop singing songs only to start them again. He apparently said to the crowd "you didn't come here for music did you?"
Morrison then exposed himself to the crowd. The local press had a field day with the incident and pressure was put on local authorities to arrest Morrison.
After turning himself in, Morrison was found guilty on the misdemeanour charges of indecent exposure and profanity. He was found not guilty on the felony charge and the misdemeanour for drunkenness. He was released on a $50,000 bond. He passed away before the legal matters could be concluded.
Speaking about the novel which is available to pre-order here, Moore said "The Doors have so much theatre, and swagger and storytelling, they're a totally natural fit for a comic. The lyrics they wrote, and the energy they played with – I think the songs don't just lend themselves to the medium, they actually cry out to be comics." (Per, NME)
The graphic novel is just one way The Doors are celebrating their 50th anniversary of the album, 'Morrison Hotel' which was given a new special reissue last October.
It was remastered by The Doors long time engineer, Bruce Botnick. It included 60 minutes of unreleased studio retakes.
Speaking about the reissue, Botnick said "There are many takes, different arrangements, false starts, and insightful studio conversations between the band and producer Paul Rothchild who was in the control room. It's like being a fly on the wall."
Previously unreleased versions of 'Peace Frog' and 'Blue Sunday' were released at the time and you can check them out below.