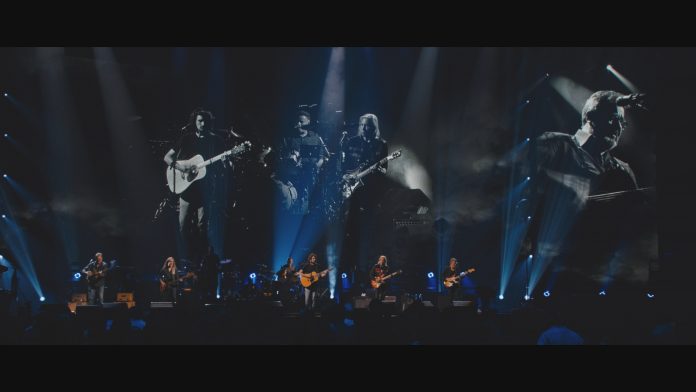 The Eagles performed their first concert since the start of the pandemic on Tuesday night at New York's Madison Square Garden.
The band's current tour was due to kick off on Sunday night, but was pushed back due to bad weather from Hurricane Henri.
A performance of 'Hotel California' kicked off The Eagles nighttime gig.
Tuesday's performance marked the continuation of the group's cancelled 2020 Hotel California tour, which saw only 10 performances before it was derailed by the pandemic.
Every concert begins with a performance of The Eagles 1976 hit 'Hotel California' followed by hits like 'Take it Easy', 'Tequila Sunrise', 'One of These Nights', and 'I Can't Tell You Why'.
As the performance draws to a close, Joe Walsh reprises songs from his James Gang days with 'Walk Away' and 'Funk #49', before Don Henley revives his 1985 solo hit 'The Boys of Summer'.
Henley is the only original member of The Eagles still in the band, with Walsh joining in 1975 and Timothy B. Schmit joining in 1977. Founding member Glenn Frey passed away in 2016, seemingly marking the end of the band, though they surprised fans by touring the following year with Vince Gill and Frey's son Deacon.
"It's a little surreal for me when I'm on the drums and [Deacon is] directly in front of me; his hair and his profile are eerily reminiscent of his father's," Henley told the USA Today in 2020. "But it's also been a healing thing for him and for those of us in the band who worked with his dad. Actually, he remembers our parts from the records so well that if we've let something slip over the years, he'll say, 'That's not what you were doing on the record.' And we go, 'Oh, yeah. You're right!'"
The Eagles new tour is essentially a one-to-one recreation of their 2020 tour of the same name.