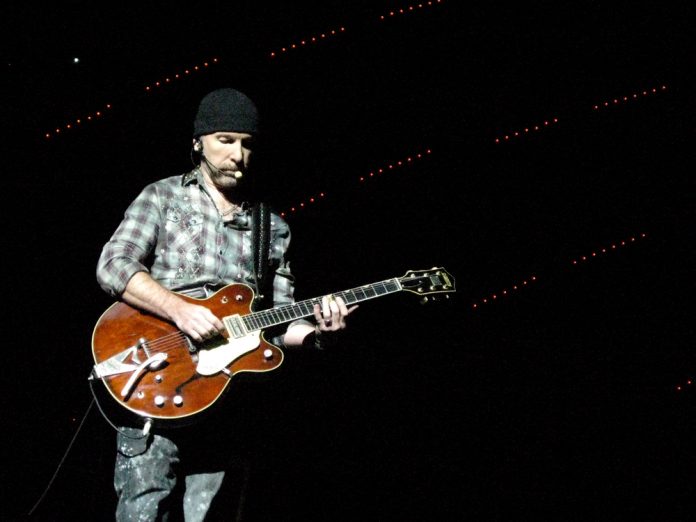 To celebrate the 20th anniversary of 'All That You Can't Leave Behind', The Edge has been reflecting on the album and that era.
It was an album that saw U2 reinvent themselves. The previous release was 'Pop'. The reviews and consensus about 'Pop' has been mixed since its release. Their tour for the album, 'PopMart' saw U2 design an elaborate stage set up. It saw the band poke fun at themselves and at consumerism. While it was visually impressive, ticket sales for the tour were poor in comparison to previous and subsequent tours since then.
Discussing that album and era of U2, The Edge was interviewed by Rolling Stone Magazine. The Edge reveals he is working on new music and gave his thoughts on lockdown.
"It's been frustrating not being able to see certain people. The fact you have to eat at home gets a little old sometimes, but other than that, I have to say, I've had quite a good time and a creative time. I have a lot of empathy for those people that rely on getting out (for their work). If we had been touring or had touring plans right now, it would be different. It just so happens this is exactly what we're supposed to be doing now"
There was a feeling within the band, that they could do better. The positive reception to the release of 'The Sweetest Thing' gave U2 hope. When talking about motivation for the album, The Edge said "'On All That You Can't Leave Behind', we absolutely wanted to showcase the chemistry of a band. But in so doing, we bumped into the opposite problem occasionally, which is that rock & roll bands tend to sound same-y".
'Beautiful Day' and 'Stuck In A Moment' are songs which are dark in their nature. The Edge was glad to have a song like 'Wild Honey' on the album. "'Wild Honey' seemed like such a contradiction to everything else. We almost didn't put it on the album because it sounded so bright, so shiny, so sweet.
During this period for U2, the world was changing. The 9/11 attacks happened when they were touring the new album. This led to U2 performing the half time show at the Superbowl. It was an incredible and moving performance and you can watch it below.
"We ended up doing the Super Bowl post 9/11. With our show designers, we came up with this idea of putting up the litany of names of those that had perished on 9/11. That became a very important moment… I was reminded of the power of music to be a way of helping people express and connect with emotions and deal with them and process them. I felt very humbled and moved to be of service in that way."
The super deluxe box set of 'All That You Can't Leave Behind' is released on October 30th. It includes remastered versions of the 12 songs from the album and an additional 39 songs that include B-sides, outtakes, and live versions. For more information on the album, click here.
Since lockdown, U2 have started a show called Extracts! and you can read Radio Nova's report on it here.
https://www.youtube.com/watch?v=ZPHGOMXQyDQ&t=1s