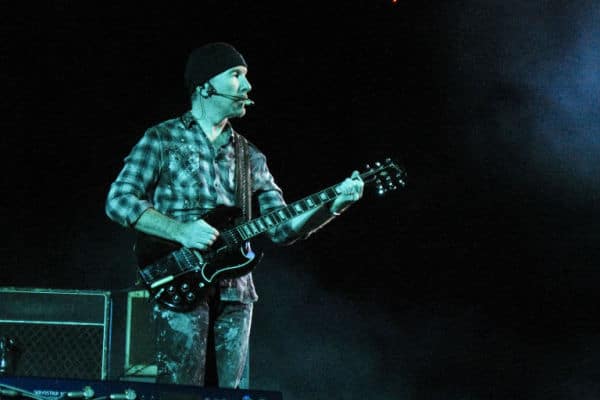 U2 guitarist The Edge has pointed to the €2 billion state of-of-the-art features of the Sphere as the reason for picking it as their choice of venue for their upcoming Las Vegas residency.
U2 are to become the first band to perform at this venue, with a set of shows which will take place in the Autumn.
The confirmed this news via a Super Bowl Sunday advert last month, which revealed that  "U2: UV Actung Baby Live At The Sphere'". More on this here.
"doesn't exist anywhere in the world"
In a recent interview, The Edge has revealed that the venue played a key role in the band's decision to embark on this residency.
"I don't think we would be considering playing in Vegas if it was just any regular residency", The Edge said. "This is a state-of-the-art venue that doesn't exist anywhere else in the world". 
He continued, "This is light-years ahead of any other venue in terms of design and the technology involved".
"It's for 18,000 to 20,000 people so it's a fairly substantial size and why it's appealing to us is that it's a combination of sound and pictures that is a canvas for us that we're just dying to get our hands on".
The Edge whose real name is Dave Evans, also shed further light on the incredible features of this MSG Sphere.
"The sound quality will be phenomenal because it's purpose-built for audio and then the visuals – the size of this canvas is phenomenal. It's 120,000 sq feet of LED screen inside and there's also another screen on the outside of the building which we will get to play with from time to time".
"So the combination of different technologies gives us the chance to do the kind of show that's never been done. And that's the thing that always gets U2 excited, is the idea that we're breaking new ground. We're innovating and finding a new way to present our music to our fans that marries great audio and the live experience with visuals that meet the songs and add a different layer of understanding to the material".
This will also see U2 embark on their first tour without drummer Larry Mullen Jr, who is recuperating from back surgery.
U2 are to also release their new album  'Songs Of Surrender, 40 Songs, One Story' this St Patrick's Day. Find out more here.
Songs Of Surrender. March 17, 2023. Pre-order the album and listen to 'Pride' now. https://t.co/e6GMdOLrR6 pic.twitter.com/iOh4ku7w6q

— U2 (@U2) January 11, 2023