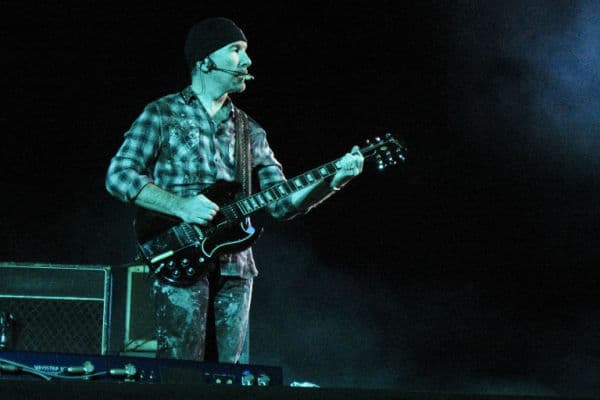 Would you like to listen to the article instead of reading it?
U2 guitarist The Edge has said that he wants the band to be "the vanguard of this resurgence of guitars".
The Edge whose real name is Dave Evans, revealed that he has a lot of "great material waiting", hoping that that their next project will be based on Bono's "noisy, uncompromising, unreasonable guitar album".
U2 had recently released their latest album 'Songs of Surrender' on St Patrick's Day, containing a range of reimagined fan favourites from the band, including 'With Or Without You', 'One' and 'Sunday Bloody Sunday', a track which Bono feels carries traces of Bob Marley in it.
More on this here.
Having hit top spot, 'Songs of Surrender' has become the 11th album released by U2 to achieve this feat. 
"the guitar is coming back"
Speaking to MOJO, The Edge has insisted that U2 have no intentions of slowing down and plan to release another album.
"Well, I would love that to be the next U2 record!", the Edge said.
"The lockdown was a very creative period for me, just in composing music. I don't want to jinx ourselves… but there's a lot of great material waiting. I think the guitar is coming back. I really feel it. And I would like to be part of that". 
The Edge added that he hopes U2 will be the posterboys for the return of the guitar to music.
"I'd like to be the vanguard of this resurgence of guitars! Don't get me wrong – talking to people I know who work at Fender [guitar shop], they're selling more guitars now than they've ever sold", he added. "But in terms of popular culture, there's been a drift away from the instrument, it would be fair to say".
"And I think that pendulum is going to start swinging the other direction. Because it's such an incredibly expressive instrument. The few bands that are using it well, it's still fresh". 
Elsewhere, The Edge spoke about U2's potential to set trends.
"To not have any ear for what's relevant within the culture is just being out of touch", he said.
"You can do stuff that's completely against the grain, but you still want to know where the grain is. I think about it in terms of the flow of a river – if you're not in the flow, you're part of an oxbow lake. And I want to be part of the flow". 
Earlier this month, the Edge had already outlined his hopes of releasing a new "guitar driven" album with U2 soon. More on this here.