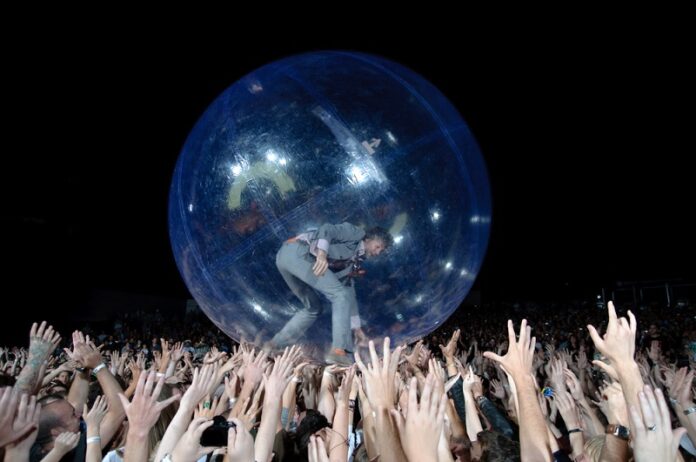 The Flaming Lips held the first ever space bubble concerts in Oklahoma over the weekend.
The concept was based on frontman Wayne Conye's own bubble. Coyne will usually roll around in a bubble over the crowd at a Flaming Lips concert.
Concert goers were given their own bubble which could hold up to three people. There was an estimated 100 bubbles in attendance at the concert which was a Coronavirus safe free gig.
The Flaming Lips played an extensive set list that incorporated songs from their entire back catalogue. They also covered Daniel Johnston's 'True Love Will Find You In The End'. It would have been Johnston's 60th birthday at the weekend. The legendary alternative musician sadly passed away in September 2019.
During the concert, Coyne held up silver balloons that spelt out "FUCK YOU COVID-19" and "FUCK YEAH OKLAHOMA CITY".
It was reported by the Brooklyn Vegan that a film crew were present at the concerts which indicates that the footage could be used in the future.
Wayne Coyne has posted many videos and pictures from the concert on his Instagram which you can see here.
You can check out the setlist and fan filmed footage from the concerts below.
The concept is innovative and may be used by other musicians in the future. Recent studies have shown that music venues are settings where the transmission of Covid-19 is low if the proper measures are put in place.
The Flaming Lips setlist
'Race For The Prize'
'Yoshimi Battles The Pink Robots, Pt. 1'
'Flowers Of Neptune 6'
'True Love Will Find You In The End'
'She Don't Use Jelly'
'Will You Return/When You Come Down'
'The Gash'
'All We Have Is Now'
'Feeling Yourself Disintegrate'
'There Should Be Unicorns'
'Are You A Hypnotist??'
'Waitin' For A Superman'
'Do You Realize??'