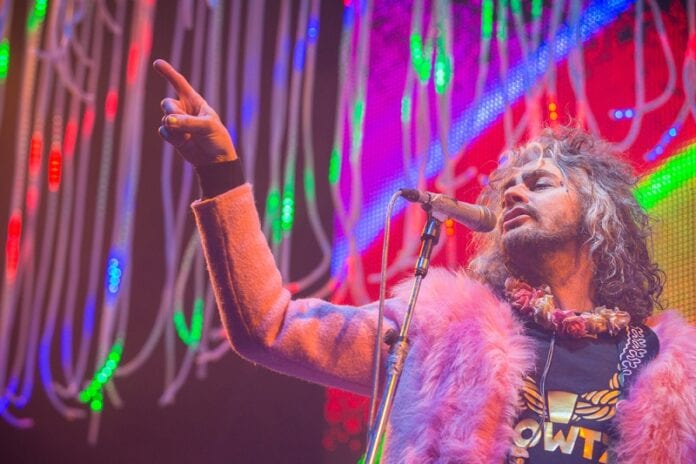 The Flaming Lips frontman Wayne Coyne has created his own weed edibles and they will be launched at a space bubble concert on April 20.
The brain-shaped 'Love Yer Brain' edibles, are marketed as "cannabis for creative humans." The gummies are named after a track from the band's 1987 album 'OH MY GAWD'.
According to a press release, the gummies will be available in 100mg and 250mg and come in various flavours including raspberry, watermelon, and green apple flavours.
The aim of the edibles is "to use cannabis and other plant-based tools in a powerful and positive way… to help people."
The gummies will first be available to buy at the band's latest space bubble concert, taking place on the appropriate date of April 20 at The Criterion in their hometown of Oklahoma City.
The Flaming Lips have already played multiple space bubble shows throughout the pandemic. The band got the idea from Coyne's use of bubbles in where he would get into one and roll across the audience, in pre-pandemic times.
Due to the US vaccine rollout, more people will be able to attend the April concert than previous concerts.
For more information on their previous space bubble shows, check out Radio Nova's report on them here.
The Flaming Lips have also announced that they will play their 2020 album 'American Head' in its entirety at the space bubble concert.
Earlier this week, the band released the official music video for their track 'At The Movies On Quaaludes' which features on 'American Head' and you can check it out below.
'American Head' tracklist:
1. Will You Return / When You Come Down
2. Watching the Lightbugs Glow
3. Flowers Of Neptune 6
4. Dinosaurs On The Mountain
5. At The Movies On Quaaludes
6. Mother I've Taken LSD
7. Brother Eye
8. You n Me Sellin' Weed
9. Mother Please Don't Be Sad
10. When We Die When We're High
11. Assassins of Youth
12. God and the Policeman (Feat. Kacey Musgraves)
13. My Religion Is You