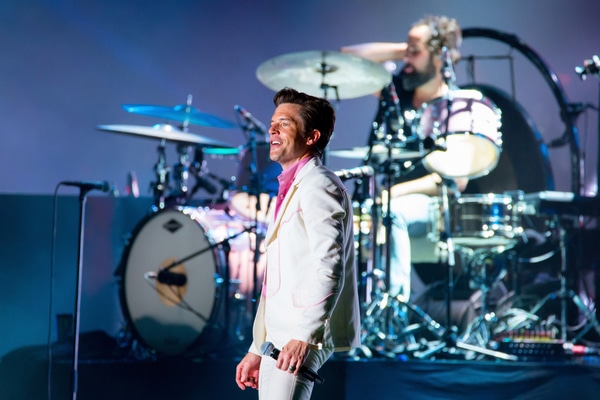 The Killers are set to land their seventh consecutive UK Number one with their latest album "Pressure Machine".
This is the latest update from Official Chart Show Records who also say that this latest album is outselling the rest of the top five records combined.
Earlier this year, the band's iconic track "Mr Brightside" also made history by becoming the first single to hit 260 non consecutive days in the UK charts since its release in 2004. 
"Pressure Machine"
The Killers had released a teaser ahead of the release of this album last month. 
The teaser clip contain snippets of people talking about issues including drug addiction. One person can also be heard saying "everybody is trying to escape something".
A towering vocal can be also heard over an old school organ, before turning into a "80s inspired neon soundscape".
A car then drives past the famous art and antiques store Schauerhaus Studiowerx. It is also located at the famous McCormick and Company Bank Building on West Main Street.
7th Killers album to hit top spot?
Every album released by the Killers since "Hot Fuss" in 2005 has reached the UK Number One spot. This includes last year's release "Imploding The Mirage".
"Sam's Town", "Day And Age", "Battle Born", and "Wonderful Wonderful" are the other Killers albums that reached top spot in the UK.
Jungle's album "Loving In Stereo" currently stands at number two in the charts, while third place is taken by Olivia Rodrigo's "Happier Than Ever", while last week's number one "We're All Alone In This Together" from Dave is in fifth place.
Flowers on "surreal" evolutionary experience
Frontman for the Killers, Brandon Flowers recently reflected on the "surreal" experience he had with evolutionary author Richard Dawkins about religion back in 2012.
Flowers who is a devout mormon appeared on Swedish TV talk show Skavlan, alongside Ulrika Johnson and ABBA's Bjorn Ulvaeus.
A debate was sparked when Flowers blasted Dawkins for calling the Mormon Church founder Joseph Smith "a charlatan". Dawkins also called the Book of Mormon an "obvious fake". 
Flowers had called his comments "all falsehoods" and told the author to "do his research".
"He's definitely a more seasoned debater than I am!", Flowers admitted to NME recently.
"I wasn't planning on debating him and I wouldn't pretend to try to convince him that there is a God or a saviour! That was a wild half-hour of my life, for sure", he added.
He continued, "For (Dawkins), he sees the beauty in science proving something and finding out origins of things".
"And that's enough for him. Nothing that science will ever find will disprove that God had a hand in it, for me. So it's a useless debate. And nothing that has been found has changed the gospel that I believe in". 
"I believe that we're all born with a light," Flowers added. "The more that we toil and persevere, the more we're able to harness and reflect it. I was more drawn to the characters who were more laissez-faire about their light – or had just flat-out stamped it out. The characters that kicked against it stood out to me".
"Pressure Machine" sees Flowers and co explore real life characters from his childhood home in Nephi and Utah.